Some of the best things we ate this year:
Lamb shank at Sullaf. (814 W. Seven Mile Rd., Detroit; 313-893-5657) Most of the Chaldean population that lived in the area around Seven Mile east of Woodward for decades has moved out, but thankfully, Sullaf still stands. There's no menu — the chef simply asks you want you want. Though I twice ordered "lamb shank," different dishes arrived each visit. The first time, the shank looked like a white club bearing a huge bulb of slide-off-the-bone meat laced with glorious lamb fat. A second version arrived in a bowl with a large shank with super tender pink and red meat. Both were delicious. — Tom Perkins
Hash plate at Folk. (1701 Trumbull Ave., Detroit; 313-290-5849; folkdetroit.com) Gently spiced blue, redskin, and sweet potatoes are not actually hashed but cubed, nestled among morsels of squash, and served with avocado, farm greens, a spicy peach-colored aioli, and two perfect sunny-side-ups (or smoked tempeh for the vegan). No wonder Thrillist named Folk one of the best breakfast restaurants in America; it serves all-day brunch. —Jane Slaughter
Hamachi crudo at Adachi. (325 S. Old Woodward Ave., Birmingham; 248-540-5900; adachirestaurant.com) Adachi is the new restaurant in Birmingham's Ford-Peabody Mansion that's a product of James Beard Award-winning, Boston-based chef Michael Schlow and chef Lloyd Roberts. Adachi did its best work with the hamachi crudo. Hamachi is Japanese amberjack, a fish similar to tuna, and the crudo holds delicate, paper-thin strips of fatty fish made intense with yuzu and white truffle oil. —Tom Perkins
The "salads" at City Bakery. (3011 West Grand Blvd., Suite 115, Detroit; 313-315-3036; thecitybakery.com) Mostly not greens-based but sometimes healthy enough to sneak into the salad category, these are elegant but hearty concoctions, more like entrées, that explode with a cascade of flavors. Particular standouts were the squash and the sprouts, with their flavors of sweet and nutty in different proportions, the caramelized sprouts next to the salty umami of the bacon, and then the surprise of the sugary dates. — Jane Slaughter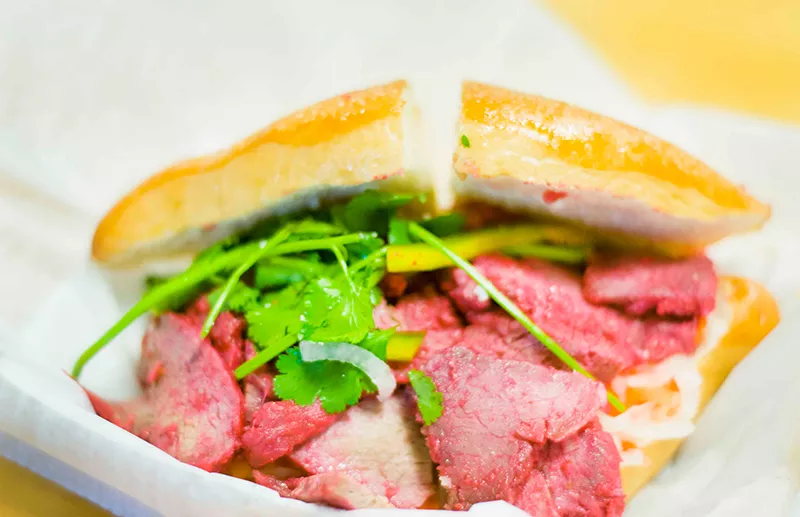 Chinese pork banh mi at Mamang. (300 W. First Ave., Flint; 810-510-0049; flintfarmersmarket.com) The Flint Farmers Market is one of Michigan's most underrated food spots, and Mamang, a tiny Vietnamese lunch counter built out by chef Tony Vu, is one of its most exciting corners. There's no going wrong on the short menu, but arguably the best dish is the barbecue pork banh mi. In it, Vu lays down thin slices of Chinese barbecue pork that he marinated in soy sauce and Chinese five spice, hit with honey and red braised to the point that it's nearly candied. —Tom Perkins
Biscuits at Avalon Café and Biscuit Bar. (2998 W. Grand Blvd., Detroit; 313-800-5760; avalonbreads.net) These plush, buttery biscuits get their height and layering from "lamination," which is folding, akin to the process used to create layers in croissants. The biscuit-maker chops high-fat, unsalted butter with organic flour, and adds buttermilk. Then the huge sheets of dough are folded three times, brushed with heavy cream, and sprinkled with sea salt. After baking they're paired with bacon, white cheddar, and scrambled egg, or smoked turkey, Gouda, and local apple butter. Or design your own. —Jane Slaughter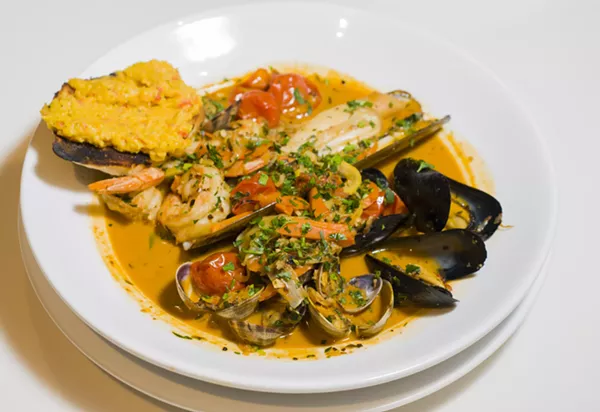 Marseille Bouillabaisse at Standard Bistro & Larder. (5827 Jackson Rd., Ann Arbor; 734-263-2543; thestandardbistro.com) There's a dearth of excellent French cuisine in Michigan, a situation partly addressed by James Beard Award-winning chef Alex Young, who opened Standard Bistro in 2018 just outside of Ann Arbor. The Marseille bouillabaisse — a dish native to Marseille on France's Mediterranean coast — holds a mild-but-complex broth that's a swirl of saffron, orange zest, and leeks. It's filled with shrimp, fish, crab, clams, and mussels, and is accompanied by a crostini smeared with a red pepper and garlic-anchored rouille. Young says he learned the recipe 27 years ago while working at a California French restaurant, and the base takes his team about two days to build. —Tom Perkins
Elote pizza at Gran Castor. (2950 Rochester Rd., Troy; 248-278-7777; grancastor.com) Chef Cameron Berg repurposes Latin American ingredients on a menu that, if not recognizable in any particular country south of the border, is alive with oversized, crowd-pleasing flavors. "Latin food that speaks with an Asian accent," he says. On a crust dusted with ground chile, the wood-fired pizza incorporates grilled corn, roasted garlic butter, queso fresco, cilantro, and Peruvian green chile sauce. You can't believe so many good things are happening at once. —Jane Slaughter
Chicken Karahi at Karahi Korner. (27616 Middlebelt Rd., Farmington Hills; 248-535-9445) Karahi Korner is literally a hole-in-the-wall in the back of a Pakistani grocery store in Farmington Hills, and there are few restaurants in Michigan that are better. Karahi Korner doesn't offer a menu — the chefs pick up food each morning, cook it, and when it's gone, the restaurant closes. The dishes are intensely bright and full of aromatics, and the spices, heat, and acid provide for an experience that's borderline intoxicating. In the chicken Karahi, nubs of meat that fall from small bones arrive in a wet, deep rust-colored, oily mix with ginger, coriander, cumin seed, garlic, onion, tomatoes, cilantro, and some variety of hot pepper. It's an incredibly rich and fragrant mix accented with the crunch of fresh ginger. —Tom Perkins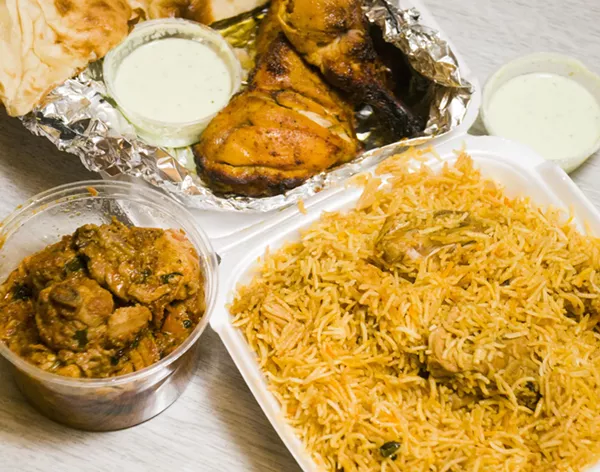 The mole poblano at La Noria. (5517 Michigan Ave., Detroit; 313-338-3545) Norberto Garita draws on his roots in Mexico for this vibrant mahogany-colored Pueblan specialty. It includes chiles, tomatillo, cinnamon, anise and bread, to make a sauce that's fruity with a very slight kick of picante. Yes, there's chocolate too, but the result has nothing to do with Sanders. Runner-up: barbacoa de chivo, a rich barbecued goat soup. The beast is marinated and then roasted for four hours, creating a fantastic deep broth. —Jane Slaughter
Mcuzi at Baobab Fare. (Not yet open.) Baobab Fare is the refugee-run Burundian pop-up that in March will open a brick-and-mortar space at Grand Boulevard and Woodward Avenue. There's a lot of buzz over the East African restaurant, partly because owners Nadia Nijimbere and Mamba Hamissi's story just might be the antidote to Trump-era anti-immigrant racism, in part because their food is incredible. Perhaps the best is the mcuzi, a stew of super tender beef that's first boiled and then sauteed in a mix of tomato, onion, white pepper, and garlic. We can't wait. — Tom Perkins
So many restaurants, so little time. Sign up for our weekly food newsletter delivered every Friday morning for the latest Detroit dining news.