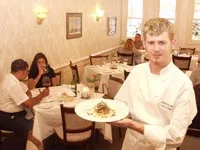 The food at Joseph's is simply wonderful. Joseph is clearly a perfectionist, an artist even. I do recommend that you come with someone you haven't seen for a long time, though, so that you'll have plenty to talk about while you wait for your food.
The pauses between courses — or even for the first course — are the longest I've experienced anywhere. My companion and I spent about two-and-a-half hours one evening recently. Of course, we were sampling every possible item.
I thought a lot about my impatience with the leisurely pace of the meal. Am I too used to the hectic pace of life to appreciate something finer? Probably so. I'm sure that creating dishes as superb as Joseph's (and as beautiful to look at) takes time.
But since you, readers, are just as accustomed to a rapid pace as I am, I thought I'd warn you.
For the last year Joseph's has occupied a white Victorian house, rather near the casino, that somehow escaped the wrecking ball.
It's tastefully furnished, if a bit floral; one room has dark wallpaper with big blowzy flowers, another sedate stripes. Miles Davis and other music is well-chosen.
Each dish comes to the table looking composed, constructed and kind of tall (though not the silly towers we saw in some striving restaurants a few years ago. Who starts these trends?). Dabs of multicolored sauces often surround the main event, color-coordinated with the food.
The menu descriptions of Joseph's dishes read like caricatures of high-falutin' cuisine, but they do indicate the thought and care he's put into each one. How about an appetizer of vodka-cured wild British Columbia salmon tartare with fingerling potato röesti, osetra caviar remoulade, pommery mustard coulis, and a chive-cucumber emulsion?
Joseph Petrinac, the chef-proprietor, calls his cuisine "modern fusion." He trained in France for five years but likes to blend Asian ingredients and fresh pastas into the French foundation.
It works. Everything we ate at Joseph's was perfect. How's that for an absolute statement? And I spent only about $50 US for salad, soup, appetizer, entrée, coffee and dessert. Here are some highlights:
• A salad of mesclun greens with paper-thin peach slices, bright purple edible violets and a peach-champagne vinaigrette.
• Roasted vegetable soup with basil oil — creamy, with a winter look and taste, but still delicious in summer.
• Szechuan beef-ginger-shiitake pot-stickers with peanuts, matchstick cucumbers and a hot-and-sour sauce.
• A salad of spinach leaves with asparagus, tiny green beans and the business end of a scallion, and 50-year-old balsamic vinegar.
• Asparagus bisque with a dollop of tart creme fraîche.
• Salmon with "forbidden black rice" and baby Japanese eggplant. I can't imagine how he makes the rice look like caviar, but it tastes much better.
• Wild mushroom raviolo (despite the singular name, there are three large ravioli in the half-size portion), with scallops and paper-thin pasta
• Vermicelli with prawns, sweet barbecued pork, lots of other goodies and a Singapore-style curry
• Beef filet — the tenderest, juiciest, ...
• Liquid-center warm chocolate torte that will have you re-creating the restaurant scene from When Harry Met Sally.
Three of the dishes, including the vermicelli and gnocchi with morels, are available in half portions that are plenty big. That means that about $4.39-$6.89 (United States) will get you a little taste of heaven. It's worth waiting for.
Jane Slaughter dines for Metro Times. Send comments to [email protected].