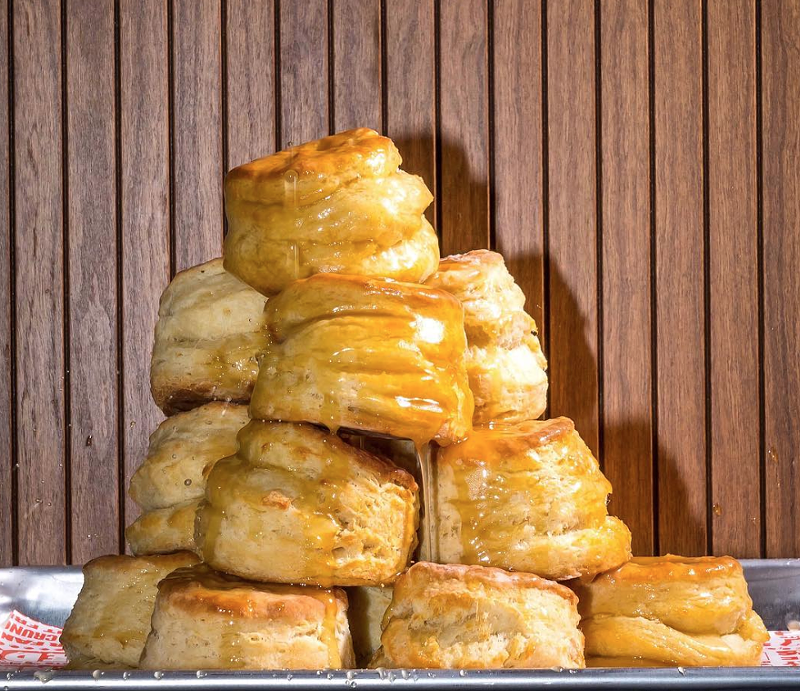 Three new food and beverage options will get up and running today in downtown Detroit's Shinola Hotel.
The New York City-based NoHo Hospitality Group is opening Penny Red's and the Brakeman, a fried chicken restaurant and beer hall, respectively. The chicken recipe in Penny Red's belongs to NoHo's James Beard Award-winning chef Andrew Carmellini, who serves it at one of his NYC restaurants. He also
opened San Morello
, a finer southern Italian restaurant in the Shinola Hotel.
Penny Red's is keeping a short menu with buckets of bird, chicken sandwiches, biscuits, and several sides. It'll serve as the food option for the Brakeman — named after a Shinola watch — which is a 200-seat beer hall focused on Michigan and Midwestern brews.
The Brakeman will require customers to pay with tokens, which the hall has said is an additional layer to the ordering process meant to increase interactivity.
Eater
reports that the Brakeman will offer pour-you-own beer taps at two of its tables. It and Penny Red's will also only accept credit cards, which some say is an exclusionary practice, but restaurants generally argue is easier to manage.
Grand Rapids-based Madcap Coffee opened its first Detroit shop on Saturday in the Shinola Hotel. It's earned a reputation as one of the state's best coffee roasters, and the Shinola store is its fourth location in Michigan.
So many restaurants, so little time. Find out the latest Detroit dining news with our weekly food newsletter delivered every Friday morning.