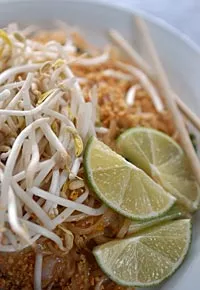 No one ever seems to take me up on this, but occasionally I like to tell readers how they can dine out really, really cheap. It reminds me of the time I spent in New York City, when I was allergic to work. My boyfriend and I would walk to a Ukrainian diner called Odessa on Avenue A, order a fabulous 50-cent soup and scarf all the bread we could eat. (We didn't share the bowl; we weren't that desperate.)
Here's the Hamtramck 2003 version: three people go to Thai Bangkok. They order one $7.20 entrée. They leave $3 poorer apiece, replete and with the satisfaction of having tipped generously.
Entrées are a buck cheaper for lunch.
Portions are immense at Thai Bangkok, which has been operating under the management of its new owner, Por Vang, since October. Although quality varies from dish to dish, you can get a magnificent meal here.
At the very top of the list is Tom Kha soup ($2), described as hot and sour but actually more hot and sweet. I spent a lot of time trying to figure out the order in which I tasted the bite of the scallions, the sweetness of the coconut milk and the earthiness of the cilantro, and finally gave up. They're all distinguishable and if you order pork in your soup, those small morsels add a rich bonus.
Also wonderful is Tom Yum, and, again, "hot and sour" doesn't do it justice. This is usually Tom Kha without the coconut milk, but Por Vang, who is also the cook, has seen fit to throw in tomato slices — and they work. I'd like to know where he finds tomatoes with flavor this time of year; in any case, he's discovered that this New World fruit makes perfect sense with lemon grass and kaffir lime leaves.
Another arresting combination is roasted peanuts and squid, which works great in Gaeng Massaman, a "Muslim curry stir-fry." (Crab, scallops, shrimp, chicken, beef, pork or tofu are also available.) This golden-orange concoction also includes potatoes and onions.
How potatoes found their way to Thailand, I don't know. Because of them, the curry is more than filling as well as rich, though the squid is a bit rubbery.
Thai Bangkok hides more soups in the "Noodles" section of the menu. There's broth at the bottom of a huge bowl filled with noodles, bean sprouts, fried garlic, ground peanuts, cilantro and scallions ($7.20). Cilantro is prominent here, blending with the other flavors to produce a light but pungent broth. I ordered the roast pork version; this complex dish is a find.
Since you'll be carrying some of your soup home, you should know that the bean sprouts lose none of their crispness by Day Two, nor do the noodles turn to mush.
Ditto for Pad Thai, in which Por Vang does a good job. With Pad Thai, the main thing is to keep the ingredients fresh and the sauce light. Mission accomplished.
Less successful was a red snapper dish, Pla Pad Ped, the most expensive item on the menu at $11.20. The fish was rather tough and chewy.
My companion called her green curry with chicken "somehow spicy and bland at the same time." It's pale and creamy and the kaffir lime leaves and basil don't really come through as hoped.
Thai Bangkok's appetizers are mostly miss-able, partly because the accompanying sauces are mediocre to bad. Spring rolls are small and very ordinary cylinders, more wrapper than filling. Fresh rolls might be refreshing come summer but left me cold in January. The white rice noodle wrapper encloses lettuce, shredded carrot and cucumber and is served with a hoisin sauce.
Tofu Tod: Let's be blunt: there are nutritional reasons for tofu, but there are no gastronomic reasons for tofu. I don't care how well you carefully crisp its outsides, it will still be flavorless inside — and I've never found tofu to be good at absorbing other flavors, the way rice or noodles or potatoes are. So even the mildly sweet and pleasant sauce served with this appetizer does not rescue it from featureless insipidity. Save your $4.50.
The usual desserts are proffered, for $1.50. Coconut ice cream is quite sweet, not creamy, and has tiny balls of tapioca hidden within. Banana rice cake, for those who haven't tried it, is rice and coconut milk wrapped in a banana leaf and steamed to a paste, sweetly dense and sticky, with a few mung beans. I'd say that this works for those who are determined to finish their meal with something sweet, but it's not worth bothering about for others.
Thai Bangkok is unassuming in the extreme. There are a few photos of Thai scenes or emblems on the walls, including a gray shot of the restaurant's exterior that looks like it was taken in the '30s.
Service is not top-notch — if you want individual plates with your appetizer, you'll need to ask. Or maybe they're economizing on wash water.
No matter. It's the food you've come for.
(Thai Bangkok is closed on Sundays. No alcohol.)
Jane Slaughter dines for Metro Times. E-mail [email protected].