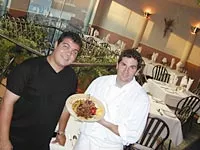 Windsor's Little Italy boasts so many good restaurants it's amazing they all manage to stay in business. Il Gabbiano ("the seagull") is the product of a parting of the ways between chef-owner Joe Fallea and his cousin Nick, of
Nico
(down the block).
Whether Erie Street needed another Italian restaurant or not, Il Gabbiano was a charming addition to the scene. For starters, it's great to look at. The first floor is lined with beautiful tiles, some hand-painted with a canal scene. The second-floor skylight shines down through a cutout in the floor to the story below, from whence the merriness of large parties filters skyward. One Saturday night a guitar-and-accordion duo were regaling an anniversary party with every corny Italian song in their repertoire.
Also on the second floor is what I can only call a "wine attic," since it's not a wine cellar. You can enter the climate-controlled room to select your own bottle, if you like, but I found a glass of the house valpolicella or merlot to be just dandy.
With Fallea's splendid food, that is. Take the insalata di mare, or seafood salad. It's garlicky scallops, squid and octopus on fancy greens, refreshing on a hot night. An indication of how much I liked this salad is that I was willing to overlook the still-frozen baby shrimp that were also part of the mix.
Another tentacled appetizer is calamari ai ferri, or charbroiled squid, also excellent, cooked with lots of lemon. Calamari seems to make an excellent background for all sorts of other flavors.
The house salad is simply greens in a simple vinaigrette, and perfect.
Turning to entrées, consider linguine mare monte, or "sea and mountain." You'd think that the delicate shrimp and mushrooms would be overwhelmed by the tomato sauce, as almost anything generally is. Not here. The flavors meld perfectly while retaining their distinctness, so that you could almost imagine the tomato as a sea vegetable.
Similarly, the pappardelle al sapore di bosco ("flavor of the forest") combines wine, porcino mushrooms and inch-wide fresh pasta in a musky, woodsy alliance.
Rum chicken was a new one on me. I find that I actually wrote "yo, ho, ho" in my notes, perhaps the influence of the above-mentioned merlot. It was grand. More mushrooms, and for a side dish, some superb zucchini and squash roasted with balsamic vinaigrette.
Saltimbocca ("jump in the mouth"), that venerable Italian dish, has always seemed a bit like gilding the lily to me: veal and prosciutto, and sometimes the chef throws in some fontina as well (though Fallea does not). I found his version a bit salty, but that tends to be the case with prosciutto.
Linguine alla bella donna was also a bit salty, and rightfully so, as it contains capers, prosciutto, olives and roasted peppers. Though I wasn't wild about it myself, it did taste exactly the way it was supposed to, with each flavor making a bid on its own.
Desserts: The tiramisu is surprisingly substandard, weak with a bland custard on top. The ice cream tartuffo, though, is great: Try amaretto flavor, or bacio (hazelnut).
Il Gabbiano is a special treat for Americans, with the Canadian dollar hovering around 68 U.S. cents. It's open every day, under the mortifying slogan: "The difference between eating and dining."
Jane Slaughter dines for Metro Times. Send comments to [email protected].