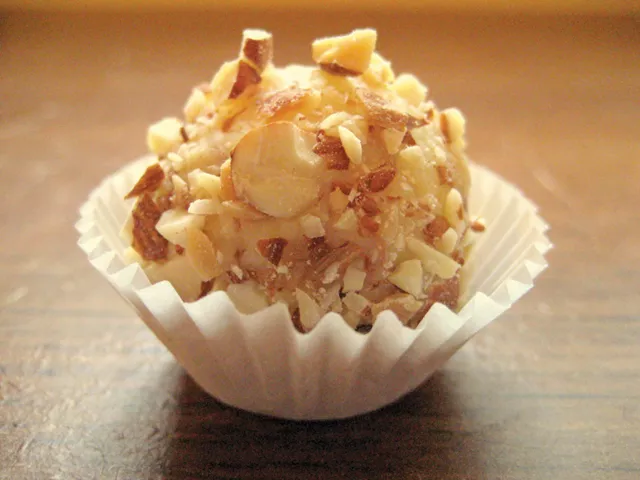 Going granola
When we first came across Simply Suzanne granola, it was because company head Suzanne Vier was running a vendor's table at 2010's "Home Slice" event at Eastern Market. The business was just a start-up then, and Vier had just returned to Detroit after years in New York and abroad. Nowadays, she's just as likely to be known as an organizer of West Village's Tashmoo Biergarten as for her granola line, which has only continued to grow. Last year, the brand was introduced at Michigan Meijer stores. Now the brand is Meijer's No. 1 local granola brand. In addition to Simply Suzanne's original granola, the line includes Lotsa Chocolate, So Very Cherry, Dark Chocolate and Coffee, and the Live Simply line of trail mixes in Cranberry Pepita Dark Chocolate and Apple Rosemary Pecan.
Truffle shuffle
No matter how local you try to keep your food, something is always going to have to be imported. In Michigan, we simply don't have the climate for olive trees or agave or peanuts. So when you talk about a "local chocolate," the cacao still comes from elsewhere, but you can find local gourmet chocolatiers who make treats by hand with a certain panache. Just ask Pete Steffy of Pete's Chocolate Co., who says that good chocolate is all about using simple, quality ingredients — and that's how he makes a dozen different kinds of ganache-filled truffles. The chocolate itself comes from Belgium, but the hormone-free cream he uses comes from Calder's Dairy. Steffy also uses natural flavorings and such fresh fruit as Michigan cherries. Although he specializes in hand-rolled truffles, Steffy also makes chocolate bars, mousses and even drinking chocolates. Pete's Chocolate is additive-free for the chocolate purist. Steffy's line of flavors includes raspberry, peanut butter, Amaretto, cinnamon cayenne and coconut curry, but he says he's also open to new ideas for flavors — if customers have something else in mind. Chocolates are $1.50 each, or $6 or more for a box. Although Steffy doesn't have a store, he sells at local markets and by order for events. You can sample the company's wares 5-11 p.m. Dec.7, at the Detroit Holiday Food Bazaar at the Jam Handy.
Pies that surprise
Nikita Santches, a local chef, has run his own pie company, Rock City Pies, for more than a year. "I source my ingredients locally and organically when possible and according to season. I serve very untraditional pies." He ain't kidding. His creatons have included apple bacon crumble pie, strawberry rhubarb basil pie with balsamic reduction, even chocolate peanut butter pie. From their unusual pairings of ingredients down to their thick cookie crusts, these confections are unconventional in the extreme. The crisp, thick crust is made with oats for texture, with a little sugar for sweetness. Santches avoids using sweetener in toppings, wanting to preserve the pie's various flavors. Among the most popular, Santches says, are salted caramel apple pie, "Red Velvet" (which he says is like a cheesecake), chocolate caramel, butterscotch bourbon pecan, and cranberry white chocolate pistachio. Business has been picking up for the holiday season. He tells us: "I'm currently taking orders for Christmas. I got so many orders for Thanksgiving that I had to turn people away so for Christmas I started taking orders a few weeks in advance." The pies are on sale at Ferndale's Rust Belt Market (22801 Woodward Ave.; rustbeltmarket.com), for $3 a slice or $25 a pie.
Going for spice
Al Pronko of Maria's Comida in Hamtramck created the restaurant's special salsa from fresh, high-quality ingredients, and with plenty of input from his kids Fred and Marie. Customers liked it so much that he made three more salsa flavors: roasted habañero, roasted habañero with mango, and black bean with roasted corn. In fact, the salsa was such a success, the Pronkos closed the restaurant to focus on making and marketing the salsa full time.
Saucy lad
William Wall, aka Billy Bones, has been making sauce and other spicy condiments for three decades now, and has won hundreds of awards and competitions. A dab of his B.B.Q. sauce on a cracker of pulled pork is a delight we were recently introduced to. His headquarters are just out past Midland in Sanford, and his products encompass much more than barbecue sauce, including dry rubs, steak sauces, chili mixes and more. And he has legions of followers. He even sells his jalapeño hot sauce by the 55-gallon barrel.
Chip off the old block
We've long championed the plucky pickle people at McClure's, who've taken a modest pickling enterprise and turned it into an ever-broadening business, producing spicy pickles, garlic dill pickles and relishes, even introducing Bloody Mary mix. This is probably our favorite brand extension ever. McClure's takes quality Better Made chips, then adds a spice mix that earned them props from none other than the folks at Esquire magazine, who honored the 99-cent baggies as part of their "2011 Eat Like a Man Grilling Awards." They are available in Garlic Dill Pickle and Spicy Pickle at quality chip retailers in metro Detroit.