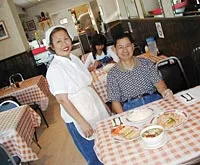 "Eat In Thailand" is the command — or the invitation — and a pulsing neon arrow shows you where Thailand is. Once inside the bare-bones storefront — no travel posters, just a few small pictures of dragons and pagodas — you'll find fresh food that blends the lightness of lime juice, the richness of coconut milk, the heat of red chiles, and sometimes the grease factor (in a good way) that tends to bring North Americans back for more.
Your hosts are unobtrusive but remarkably accommodating. I mention "unobtrusive" because I'm beginning to get tired of the constant stream of "Is everything OK?" and "How are you enjoying your meal?" that diners are subjected to at many restaurants.
It was nice to be left alone in Thailand, but with the owner nearby. That meant we could initiate the dialogue when we needed anything, rather than being initiated upon.
But back to accommodating: Although the menu is extensive, with full-color pictures of most dishes, you can substitute to your heart's delight.
Case in point: Asian-food aces Linelle Mogado and Barry Eidlin stopped by Eat In Thailand recently after a trip to Windsor's International Market. They asked for tofu instead of meat in one entrée; sorry, the restaurant was fresh out of tofu. Well, we have some in the car — could you use ours? No problem.
Be sure to catch a whiff of the jasmine plant at the front of the restaurant, and note the red and purple chili bushes whose produce is apparently put to good use in the kitchen.
A frustrated artist must work behind the scenes, carving carrots, turnips and tomatoes into roses and pineapples that adorn each platter.
If you are an Asian-food ace or dine with same, you'll know that neither mango nor papaya salad is made of sweet orange fruit. Instead they're made with the unripe, shredded version of those fruits, tart and green-to-white. I preferred Eat In Thailand's mango salad, sour and tossed with red onion, to the hot but bland papaya with peanuts and fish sauce.
Soups are complex, combining either sweet or hot with sour. The rich seafood soup uses shrimp, squid and mussels in a chili-paste broth. Don't bite down on the gingery galangal root. The coconut-chicken soup, a beautiful ivory-yellow, is enhanced by straw mushrooms and more galangal. Lemongrass shrimp, pha goong, is served cold and fierce; I found it literally sinus-clearing in a most pleasant way.
The "fried toast" appetizer, with ground pork and sesame seeds sprinkled on top, is a more interesting way to begin the meal than the usual satay. It's salty, greasy and good. (Like rape oil, which changed its name to "canola," "greasy" needs a more commendatory-sounding synonym.)
Pad Thai, on the other hand (more or less the Thai national dish), was rather too greasy on the night I visited, though my aces swore this was not usually the case. Pad Thai should be crisp and light, not a southeast Asian version of spaghetti carbonara.
For a rich contrast to the tangy salads, try any of the red curries, based on coconut milk and broth. Masamang beef, for example, is stewed in a mahogany-colored sauce, with potato and peanuts, and the fat is left on the beef. Cashew nut chicken, one of the more Chinese-like dishes, is sweetish and, again, good-greasy. That would not apply to Eat In Thailand's shrimp spring rolls, though, which are simply shrimp in a thick, deep-fried wrap, with a clear, honey-based sauce. Garlic shrimp is better, not breaded, salty and served with fresh cilantro.
Liquor is served. Check out the three-course lunch specials at $4.50-$5.95 Canadian. And the fortune cookies — they've got your fortune printed in English and French.
Jane Slaughter dines for Metro Times. Send comments to [email protected].