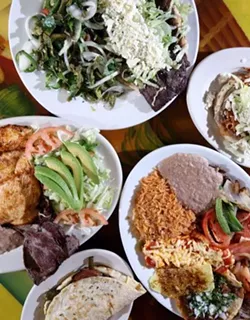 Taqueria Nuestra Familia
7620 W. Vernor Hwy., Detroit
313-842-5668
Handicap accessible
Dinners: $8-$13.50
Open 8 a.m.-11 p.m. Monday-
Thursday, 8 a.m.-midnight
Friday-Saturday.
Looking back over years of Metro Times restaurant reviews, it's hard to believe we don't have a review on file for this fabulous Mexican eatery. That's because people who love authentic Mexican food typically love Nuestra Familia — including food writer Tracie McMillan, Mexicantown native Martina Guzmán and punk rock taquerista Timmy Vulgar — and with good reason.
Nuestra's cheery and warm interior with brightly colored tables and chairs, is a sanctuary of warmth in the middle of a cold winter day. The servers are polite, and more than a few speak with an accent that reminds you you're a guest in a bustling ethnic community. The large, fenced-in and monitored parking lot is accessible from each side street, and the restaurant can be entered from the rear, where a small patio is visible.
All diners are given a small relish of cucumber and radish slices, a basket of wonderfully crunchy corn chips, and three small bowls of sauces: a salsa, a hot sauce and a creamy kind of guacamole sauce with a slightly hot kick behind it.
The menu strains the imagination, with breakfast items, dozens of dinners, and many different kinds of proteins. Foremost, many diners will be satisfied with the inexpensive ($1.25 each) tacos. The menu offers 11 varieties, including some to satisfy more adventurous eaters, such as buche, tripa, cabeza andlengua. But most Americanos will gravitate to carne al pastor, marinated pork, which is something of a specialty in southwest Detroit, usually ordered with cilantros and white onion, here decorated with bits of pineapple. To be really authentic, crush a wedge of lime over the interior before eating. Other choices include carne asada (grilled steak), carnitas (fried pork) and pollo (grilled chicken), all of which are redolent of fire and smoke. The lomo (pork loin), is particularly good, with shredded bits of pork infused with paprika until it's dark red with a mild kick; we liked it even more than the excellent al pastor. Another favorite is thechorizo (Mexican sausage), filled with crumbly bits of sausage meat that is smoky and slightly sweet. These creations come in soft tortillas; flour tortillas hold together best, but the house-made corn ones have more flavor.
Vegetarian choices don't exactly abound, but we had an excellent vegetarian gordita,rajas con papas, with a hand-formed shell, filled with slices of skinned poblano peppers and potatoes topped with cheese. Given the spices and seasoning, it tasted hearty enough to satisfy even a dedicated carnivore.
The caldo de res (beef stew) came with thick chunks of beef, large chunks of potato, a quarter ear of corn, zucchini slices, carrot bits and even yucca. The slightly piquant broth owes its richness to the marrow of the bones, one of which was included in the bowl. The $7 small bowl was practically a meal within itself.
One co-diner ordered the combinación and nearly plotzed. If we remember right, it included a burrito lomo, a cheese enchilada, a bean tostada, a marinated pork sope and a steak quesadilla, all for $10.50. Another diner raved about the green sauce that graced her cheese enchiladas, saying it was spicier and less viscous than at other Mexican joints. One more adventurous co-diner had two gorditas, one lomo and one cabeza (steamed beef head), and pronounced them superior. One diner, initially wary of cabeza tried one of the chunks of meat, and found it a bit gummy but quite flavorful. From the menu's seafood section, we tried camarones rancheros: a plate of beans, rice and shrimp. Though one heat-averse diner found it a bit too assertively seasoned, most of us enjoyed this novel mix of shrimp and spice.
The menu goes on and on, and no 800-word article can really do it justice. We didn't even scratch the breakfast menu. None of us had any room for dessert after our $10-$15 meals. The menu really tries to do it all, and everything we tried was a winner.
With a full bar, you can order everything from margaritas to beer, or you can enjoy softer drinks, such a Jarritos sodas, Topo Chico mineral water, or horchata.
Perhaps best of all is the service. Lone diners can expect to be asked several times during a meal if all is well. Larger parties can expect the gracious attention of the manager as well. The food arrived quickly on all visits, and the orders were correct. All in all, Taqueria Nuestra Familia is a great place for an inexpensive, authentic Mexican meal, and maybe a place to broaden your culinary horizons a bit.
Michael Jackman dines for Metro Times. Send comments to [email protected]