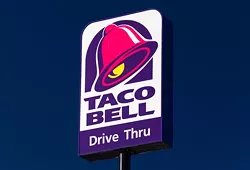 Sundance Inc., a Taco Bell franchisor based in Brighton, has been hit with a employee lawsuit in U.S. District Court accusing it of multiple violations of the Fair Labor Standards Act (FLSA) at several retail locations in metro Detroit.
The complaint charges that Sundance doesn't pay employees for all the hours per week they work, nor does it pay its employees overtime they've earned, and that employees are asked to punch out and then continue working.
Co-counsel Megan Bonanni of Pitt McGehee Palmer & Rivers in Royal Oak says, "The defendant regularly shifted the hours worked by its employees in one week over to the following week so that time records wouldn't show when they worked more than 40 hours in a given week."
According to Bonanni, shifting hours, misclassifying workers, and not paying full wages are widespread practices among Taco Bell franchises, as well as the fast food industry in general.
In other words, it's not bad enough that people are working hard, trying to pay for their food, housing, and other bills on wages as low as $7.40 an hour — even their low wages are being unjustly confiscated by managers.
But that doesn't mean it's all hunky dory for the bosses: As a press release from the firm points out, since most salaried managers of Sundance-owned Taco Bells work 60 to 80-plus hours per week, they effectively make even less per hour than the employees they manage.
The
fight to raise wages for fast-food workers
and bring them into the middle class has had a higher profile than usual over the last several years, thanks to
walkouts and strikes
and
organizing
on the issue.
While we're aware some people don't think much of fast-food workers' demands for a living wage, you'd think we should all agree that people deserve the wages they've worked for and have coming to them.
You can read the entire complaint
here
.