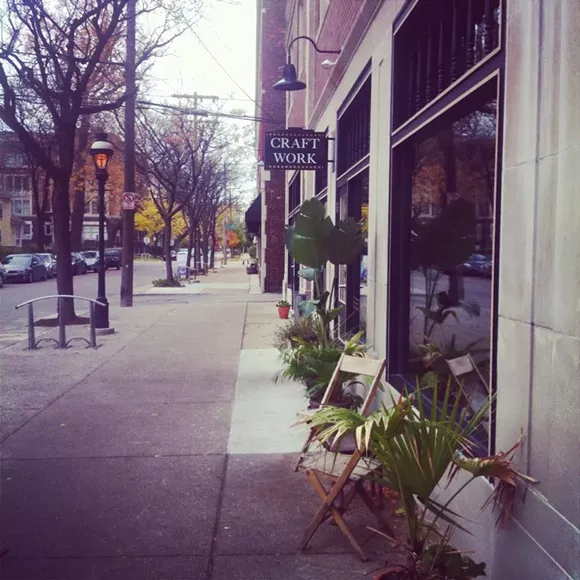 Just weeks following the departure of Craft Work chef Matt Dalton, the West village eatery has announced the hiring of someone new, who is already making changes in the kitchen.
At the helm is Aaron Solley, a Detroit native, who spent the last seven years cooking in foodie mecca Portland. The new head chef says his focus will be more toward sourcing the best ingredients, rather than over preparing.
To that end, Craft Work is working on growing relationships with Detroit farms like Acre and Fisheye, and has worked out a deal with Food Shed Exchange, a local meat and fish supplier that will provide specific ethical and quality products exclusively to the restaurant.
Says owner Hubert Yaro in a news release "We opened our doors two and half years ago and it's time to fine-tune what we have. The restaurant scene in Detroit is really amazing right now, and we want to be recognized as one of the best. We've developed a great vibe and an eclectic customer base, and we're not going to lose that. Our new menu better reflects what we stand for and helps us live up to our full potential."
Among the changes, Solley is working on introducing in-house curing and smoking of meats, including his own bacon. Also new, will be different seafood dishes and handmade pastas, as well as French and Mediterranean influences.
"In many ways we are going back to the basics with this new approach and concentrating on the art of simplicity," says Solley. "Within 200 miles of us we have wonderful ingredients, and my philosophy is, let's allow them to be wonderful. A beautiful cut of meat doesn't need more than salt, pepper and proper cooking techniques, so we're going to start with that concept."
Solley's return to the Motor City comes after a long stint in Portland, where he was as co-owner and head chef of the James John Café - a tiny space of just 300 square feet. Before that, he worked in several kitchens in metro Detroit, including Opus One, Tribute, and Papa Joe's Gourmet Market.
Amid the switcharoo is Stephen Schmidt, who's been promoted to sous chef is Stephen Schmidt. You may recognize the last name. His father is chef Jimmy Schmidt, former owner of the stalwart Rattlesnake Club. The younger Schmidt got his start at 17 and is following in his father's footsteps, while also performing in the Detroit rock group, Ill Itches.
Craft Work brass assure regulars that staples like the fried chicken and chicken tempura salad aren't going anywhere, and did not disclose the nature of Dalton's exit. We can say that we've heard rumblings about an overhaul of most of the kitchen staff.
Craft Work is open 4 p.m.-11 p.m. Monday–Tuesday, 4 p.m.-midnight Wednesday-Saturday, and open for brunch 11 a.m.-3 p.m. Sundays. It's located at 8047 Agnes.