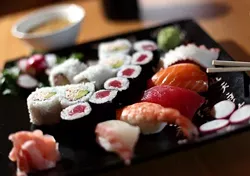 Sushi Gallery
1449 E. 14 Mile Rd.
Madison Heights, MI 48071
248-291-5987
Handicap accessible
Appetizers & sushi: $1.75-$13.75
Entrées: $8.50-$16.50
Open 11 a.m.-9:30 p.m. Monday-Thursday, 11 a.m.-10 p.m. Friday-Saturday, closed Sundays.
Sometimes it's the little things that set a place a notch above the competition. Sushi Gallery, tucked away in a corner of a shopping plaza, looks like any other strip mall sushi joint at first glance; in many ways it is. But the warm, welcoming service is what makes this place stick in your head days after you've eaten there.
Sushi Gallery opened about a year ago, and, from the looks of things, it still has a way to go as far as gaining a foothold in the neighborhood. Although we ate there during prime lunch and dinner hours, there were rarely more than a few other diners present. Part of this, though, seems to do with the fact that a large percentage of the business is carryout.
On our first visit, we ate at the counter, which offered a much more convivial experience than sitting at a table. Holding court behind the sushi bar, Korean chef and owner Jae Lee treated us as if we were guests in his home, chatting with us about kimchi-making techniques, the female abalone divers (haenyo) of his home country, and what to eat on a rainy, cold day to ward off a chill. Being the lone customers in a restaurant can feel awkward at times, but this was just the opposite.
For our dinner visit, we started with light, crisp vegetable tempura and a fresh, zippy salad called sunomono, composed of shrimp, raw salmon and tuna, and crunchy cucumbers in a ponzu sauce. Although we'd been tempted by other appetizers such as deep-fried soft shell crab and a ramen chicken salad, we were more than satisfied with our choices.
My co-diner fell in love with his salmon teriyaki dinner, commenting that he liked the richer flavor of the skin-on salmon. The dish came with several small sides, including seaweed salad, kimchi, gyoza (fried dumplings) and miso soup. Considering that salmon dishes in many restaurants often ring up at $25 or more, $14.50 seemed a bargain for the amount of food.
We also tried a Korean dish called hwe dupbab, a large bowl of sesame-scented rice topped with a variety of sashimi, pickled radish and other vegetables, sort of like a deconstructed sushi. The flavor was subtle at first, but Lee instructed me to be generous with the bottle of spicy and slightly sweet sauce provided on the side, and to then mix everything together. This brought a whole new dimension to the dish, and made it one I'd gladly eat often.
Returning for lunch a few days later, my friend ordered the dul-sot bibimbap, a signature dish of Korean restaurants in this country. Made of rice topped with vegetables and a fried egg (beef is optional) and served in a traditional hot stone bowl, bibimbap also benefits from a healthy dose of hot sauce, as well as togarashi, a spice mix containing dried chile peppers, citrus peel and other seasonings. It's a homey, hearty dish that I imagine many Koreans consider comfort food.
For my own lunch, I opted for one of the many specials (available from 11 a.m. to 2:30 p.m.) that offer various combinations of sushi rolls, appetizers like lettuce wraps, and udon or ramen soup bowls. All come with a choice of miso or ginger salad. The sushi at Sushi Gallery is decidedly Americanized, with a high proportion of rolls that contain cream cheese, are tempura fried, or use smoked or cooked fish rather than raw. Still, if you're looking for something more traditional, you can find that too.
Perhaps it's due to a desire to entice customers to return, or just a sense of hospitality, but on both visits we were offered a little something extra. At lunch, an order of gyoza appeared. With a thick, pleasantly chewy skin and well-seasoned interior, they were a welcome addition to our meal. On our dinner visit, we were presented with a delightful little Korean savory pancake that wasn't even on the menu. Incidentally, adventuresome diners should know that chef Lee is very accommodating when it comes to creating off-menu dishes and sushi rolls, so don't hesitate to ask if there's something you don't see; if they have the ingredients, they'll happily make it for you.
With the well-established and well-loved Noble Fish located just up the road, it may be a tough sell for some sushi fans to embrace Sushi Gallery. But if you're looking for a more laid-back environment where you can stretch your legs, make friends with the staff, and try some Korean specialties, Sushi Gallery has got you covered. Not to mention that Chef Lee's warm and outgoing personality makes his food taste that much better.
Noelle Lothamer dines for Metro Times. Send comments to [email protected]