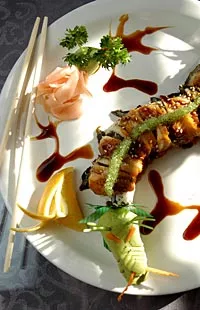 No, sushi is not eaten in Thailand, Sala Thai owner Arkom Pradithavanij concedes. And the sushi chefs at his Eastern Market location are not Japanese. They are Thai, and trained in Atlanta.
But Pradithavanij sees similarities between Thai and Japanese food. Both focus on fresh ingredients and food that is not overcooked. So Pradithavanij decided to include a sushi bar when his popular restaurant, Sala Thai, reopened in the fruit and veggie market last September.
We decided to give each cuisine our undivided attention, ordering sushi one evening and Thai another.
Sushi night was fun because the chefs have invented some over-the-top maki rolls, throwing traditional Japanese restraint to the wind. Among the offerings: "Bagel Roll" (cream cheese, smoked salmon, scallions and avocado), "Philadelphia Roll" (salmon, cream cheese, avocado), and "Oh My God!" roll (cream cheese, salmon, tuna, super white tuna, crispy rice with eel sauce, spicy sauce and mayonnaise). Cream cheese and sour cream keep reappearing, though they are not normally found in Japanese cuisine. If wild combinations offend you, it may help to know that Americanized sushi is very popular in Japan.
We decided to go as far out as we could, ordering the "Hi Life" roll ($9.95). I was intrigued with the notion of "crispy potato chips" in sushi. I imagined they would be crumbled and neatly rolled within the confines of papery-thin black seaweed called nori. I was so intrigued that I overlooked the crab meat listed in the ingredients, thus breaking my rule of never ordering crab unless I am sure it is not imitation (you can usually tell by the price if the menu does not specify). The potato chips turned out to be tostados, not crumbled but arranged like big sails propped up between slices of sushi. Other ingredients included avocado, cucumber, scallions and sour cream. Altogether unsatisfactory.
We were happier with "Rainbow Roll" ($10.95) in which an arch of vinegary rice was draped with slices of salmon, tuna, white tuna, shrimp, BBQ eel, and, of course, crab stick. The crowning glory was three rows of roe: deep green-black, tiny beads of orange smelt, and larger beads of orange salmon.
The traditional nigiri is also served: little morsels of mostly raw fish atop a little egg-shaped vinegary rice, priced from $1.50 (for crab stick) to $2.95 (for shiro maguro, a white variation of tuna, and unagi, barbequed eel). The eel nigiri is quite delicious.
On Thai night I began with a bowl of Tom Kha, a soup of hot and sour Tom Yum broth with the addition of coconut milk. Chicken, mushrooms, scallions and lemon grass swim within. It's good, but the broth is too light on citrus.
Fresh rolls (a traditional Vietnamese dish) in the appetizer category fall flat because of the use of boiled chicken, which is pretty tasteless.
Sala Thai duck ($12.95) is skinless and boneless, featuring dark, moist meat in a stir-fry of mushrooms, onions, scallions, carrots (cut into little flying bats) in a sweet sauce.
Gueng Gai ($8.75), a curry with coconut milk, stir-fried chicken, bamboo shoots, green peppers, mushrooms and basil leaves, is plenty hot. Pad Thai ($9.75), the traditional dish of rice noodles with egg, chicken, and bean sprouts, was prepared well.
A word on atmosphere: it's refreshing to see a building like this magnificent 1917 fire station reused, to present a cavernous dining room with ceilings high enough to accommodate trucks, especially considering the challenges such a project presents. Unfortunately, the opportunity to create an exciting space has been squandered on kitsch. Here's hoping that Sala Thai makes so much money that it can be rehabbed with the glory it deserves.
Liquor license pending.
Elissa Karg dines for Metro Times. E-mail [email protected].