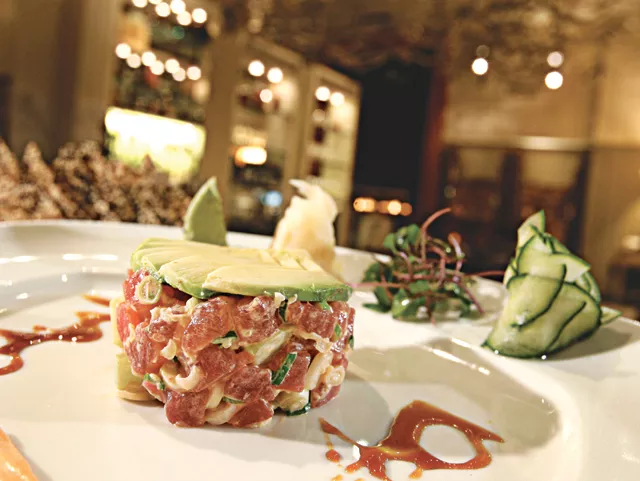 Wolfgang Puck Grille
Inside the MGM Grand Casino, 1777 Third St., Detroit
313-465-1648
Wolfgang Puck is the most downscale of the MGM Grand's three upscale restaurants. Bourbon Steak is way steeper and quality is reputedly high. Saltwater and Wolfgang don't charge as much, but Saltwater is rated by everyone, including me, as one of the best seafood restaurants in this Midwestern city. Saltwater and Bourbon are both somewhat secluded from the casino, while at Puck you can get a very good meal while seated within very close eyeshot of the slots and listening to Led Zeppelin.
There's little atmosphere other than the slots in most of this restaurant spread out along the casino floor, not even a tablecloth. One end is decorated as if someone were thinking rustic cabin but stopped a third of the way there — a tangle of white antlers hangs from the ceiling; a skinny gas fireplace is flanked by stacked chunks of wood. None of this makes much impact on the psyche when Robert Plant is taking up the aural space. (To be fair, the Kinks, the Boss and unidentifiable/undifferentiated were also heard.)
The restaurant has been signed off on by the ubiquitous Jack Nicholson look-alike Wolfgang Puck; it's hard to have confidence he's had more input than that, what with his 17 other striving restaurants and nearly 90 downscale ones around the world ("click here for franchising opportunities").
But shut out the noise and concentrate on chef Marc Djozlija's well-executed modern American food. It starts with a basket of warm bread, some made in-house, some brought in parbaked from La Brea Bakery in L.A. The garlic flatbread, salty olive bread with a crisp crust and very sour sourdough are all worth pursuing at the risk of derailing dinner.
Starters are also impressive. I tried asparagus soup, back before spring had sprung, and found it the very essence of spring + butter. It's not a complex soup, but it doesn't need to be when it can distill and bring forth the essence of a great vegetable so expertly.
Calamari circles have just the right consistency and crisp crust — it's not unusual anymore for someone to know how to cook calamari right. Their mild flavor (flecked with roasted parsley? Or is it basil?) is overwhelmed by a hot-and-sweet Thai chili sauce that's also tasty but makes the experience something else.
Crabcakes are mouth-watering as long as they last — they are four tall, but tiny bites that add up to about 44 percent of a normal order (for $17). A- for quality, F for quantity.
I've never understood the fuss about gnocchi — lots of work for the cook, resulting in a mild flavor that's usually smothered by the sauce. That was the case with "ricotta gnocchi with Italian sausage Bolognese and shaved Parmesan" — the diner gets a flavor-full sharp tomato sauce and lots of Parm. No complaints.
Djozlija offers a prix fixe menu Sunday, Wednesday and Thursday that's a good bargain: $29 for three courses, plus $21 for three wine pairings, a white, a red and a Port. The choice is among three appetizers (including that asparagus soup), four entrées and one dessert. I tried pasta with wild mushrooms and truffle oil from that menu and found it salty, pungent and generous; it's hard to miss when truffle oil is a main ingredient. One of the red wine choices is Puck's own Cabernet Sauvignon, 2009.
It would be interesting to compare two Puck rib-eyes: the prix fixe option with Maytag blue cheese butter and red wine sauce vs. the $39 center cut rib-eye with Armagnac-peppercorn sauce. My party tried only the former and found it large but not as tender as should be, rather chewy; the sauce, though, kicked in all the unami buds.
Another choice where sauce, spud and flesh work together to create a harmonious whole is almond-crusted salmon with horseradish potato purée and Port wine sauce. The dark sauce is the sweet outer pool, ringing the circle of green-flecked potatoes that are only mildly pungent. The pink, tender, flaky salmon sits in the middle, its richness enhanced by toasted almonds. I recommend getting a little of each in each bite.
Djozlija also presents sandwiches and pizza, including a sirloin cheeseburger with onion marmalade. I tried only one pizza, which was notable for the sharp fennel in its Italian sausage but not much else.
After dinner, besides drinks like Bailey's, Ports and Madeira, the menu includes "artisan" teas, which seems so un-casino. The dessert menu reads like a dream: a soufflé of extra dark chocolate, a 12-layer Dobos torte, bananas Foster. Cheesecake is baked on an infinitely rich shortbread cookie crust and served with rasp-, blue- and blackberries. The bananas Foster includes rum-soaked raisins and is as sweet and lush as caramelized bananas are supposed to be, and the house-made 50-bean vanilla ice cream is as intense as vanilla can be intense.
Hours are 5-10 p.m., Sunday, Wednesday and Thursday, and 5-11 p.m. Friday and Saturday. Brunch is 9 a.m.-2 p.m. Sunday.