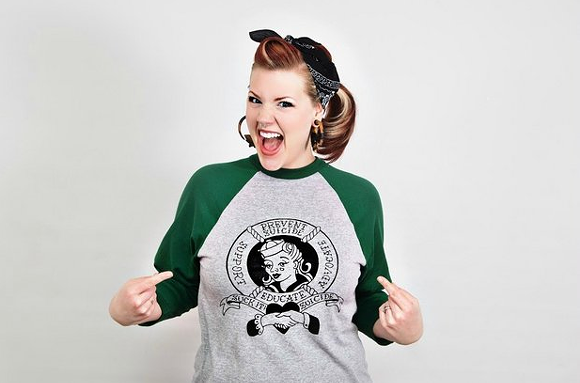 The work that the Livonia-based
Six Feet Over
non-profit undertakes is heavy and somewhat grim stuff. While most working on the suicide issue focus on prevention, Six Feet Over also helps with the aftermath, or "postvention."
Funerals are expensive, as is the cleanup of a suicide scene. At the low end, a funeral runs around $2,000, and clean up costs range between $500 and $2,000. And for those who can't afford to pay for that process, Six Feet Over is there to provide financial assistance.
Beyond that, Six Feet Over provides money for wages lost during the grieving process, or for other unexpected situations. For example, founder Kate Hardy bought one family's children Christmas presents when the costs from a suicide stacked up.
Hardy, a suicide survivor seven times over, also helps guide victims' friends and family through the grieving process, and started providing support to high school kids who lose a friend by setting up an off-campus safe space where they can go to grieve.
Tough stuff, indeed. Fortunately, as
MT learned last year
, Hardy is one of the funniest people in town, and her sense of humor and bubbly personality carries over into her work.
Evidence of that lies in Six Feet Over's fundraising effort: The Fourth Annual Ray & Laura's "Suck It, Suicide" Comedy Showcase, scheduled for Feb. 18 at Small's.
This year's event is done in the "God Damn Comedy Jam"-style. Comedians will do regular stand up sets, then come back in full costume as the artist they're portraying and perform songs with the Ray and Laura House Band. Perfomers include host Jeremy Shipley, Blain Hill, Alex Bozinovic, Josh Adams, D'Anne Witkowski, John Mahar, and Ellen Stachowicz.
Hype Screen Printing will be on hand for on-the-spot screenprinting and businesses participating in the raffle include Ink Addict, Eternal Tattoos, Painted Lady, McShane's, Black Iris Booking, Nuvo Vintage, Skin Boutique, North Main Tattoo, and artists Dirty and Kyle "Rise" Irving.
Hardy and her team raises money through donations at fundraising events like this weekend's comedy night. She also has shirts available on Six Feet Over's website, and sets up at music festivals and other events where the group raises awareness and funds. Can't make it this Saturday but want to donate? Head to
www.sixfeetover.org
for more info.