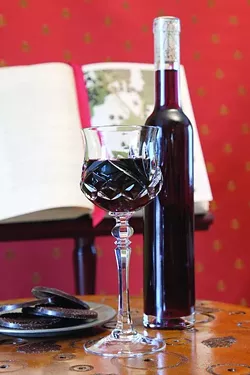 Mead expert Ken Schramm is enormously well educated about his pet topic, the kind of guy who can expound for hours at a time about mead. Now imagine that personality amped up by the stress of opening a meadery, Schramm's Mead, right on Nine Mile Road in Ferndale. It happened in a nick of time, as Schramm explains breathlessly.
"We're very lucky," he says. "We managed to complain to the Tax and Trade Bureau of the ATF to get stuff approved, having no idea the government shutdown was coming.
"We were hanging on by a thread trying to get open, got some accelerated reviews, and the ATF promptly got us done and then the government proceeded to shut down."
Some startups weren't so lucky.
"The Bureau of Alcohol, Tobacco and Firearms has to hand-stamp everything, and unless you have all approvals, you can't open the door. I feel sorry for the people paying rent, overhead and taxes and unable to sell anything."
Schramm and company were lucky indeed. The new spot had its soft opening on Sept. 26, and is open Wednesday-Sunday these days, with a grand opening scheduled for Friday, the one that Schramm says will have media present, along with the chamber of commerce, and "the giant scissors."
The new venture, located in the former Record Collector space next to Bangkok Cafe, is both a production space — with a capacity to do 300-gallon batches — and a tasting room, where guests can quaff Schramm's craft meads, pairing them with a menu of cheese, charcuterie and sweets from Ann St. Peter's Pinwheel Bakery down the street.
What are Schramm's meads like? Fans of local mead will likely be familiar with Ferndale's B. Nektar Meadery, where Brad Dalhofer has produced appealingly dry and bubbly meads such as Zombie Killer.
Schramm doesn't shy away from the comparison, and actually worked with Dahlhofer to produce a ginger mead a few years ago. "Brad's got a lighter touch than we have. Brad is leaning more toward the beer crowd, where we're leaning more toward the wine crowd. Take our Heart of Darkness mead. It's well-respected around the country and highly rated on ratebeer.com. Our stuff right now tends to be more an expropriation of individual flavors. Right now we have a raspberry, a cherry, a blackberry, a ginger and our Heart of Darkness. They are a little bit sweet, but certainly not syrupy. It's just what we can get finished in a hurry. We'll do that Champagne-like stuff, but it needs more time to get going."
Anatomy of a Connoisseur
As local mead fans are fond of joking, Schramm wrote the book on mead. Literally. Ten years ago, his book The Compleat Meadmaker was timed perfectly to school a new generation of people attuned to the growing craft beverage movement. A home brewer since the 1980s, Schramm is the kind of tenacious researcher who, when he dives into a project, as he admits, he tends to "go overboard."
"I've been active in the mead community now — jeez — 20-some-odd years? I guess I have kind of a high profile," he says with a laugh. "Really, I set out in the early '90s to learn as much as I could about the subject. I'm one of those guys who gets pretty obsessed about stuff like this.
"I'm a beverage alcohol maven. I just really want to know what great wine is like. I'm a fan of great scotch, great bourbon. So when it came to mead, I'm like, 'Let's find out how much I can learn about this,' and that's been my approach: How good a beverage you can make?"
His diligence has resulted in him being something of a local mead celebrity, hence his name up in big letters for the new project.
"Our product is of a high enough quality that we're willing to put our name behind it. The reputation I got from the book makes it pretty important that we get tasty things out there."
Scouring local resources has put the mead maven in touch with all the various scenes that converge upon mead: beekeepers, fruit growers, botanists, yeast specialists. It can be an eye-opening experience to hear him talk about his passion. He offers high praise for the work done to plant orchards of Hungarian Balaton cherry trees in Michigan. Balaton cherries are somewhat less bitter than the Montmorency cherries currently dominating Michigan's cherry orchards. The work to bring them here was pioneered by Amy Iezzoni, head of Michigan State University's Cherry Research Program. (Didn't know they had one? It's hardly more surprising than, say, the existence of an Idaho Potato Commission.)
"Michigan State really pushed to see how much flavor we could extract from [the cherries] for a peak flavor experience," Schramm says.
He also has to know his yeasts, as only certain varieties can survive long enough to pump his meads up to 13 or 14 percent ABV. And certain yeasts confer specific flavors to a beverage: Some yeasts produce beverages that are "clean and crisp," Nottingham gives a cidery effect, and "Ringwood will give you a plum thing."
If all that weren't enough, then there's the honey. Schramm has to have an expertise when it comes to the raw material mead is made from, especially when it comes to selecting "single-varietal" honeys, as bees may be trucked down to Florida to pollinate an orange grove, resulting in orange blossom honey. After their honey is harvested, these migratory pollinators might be trucked back to Michigan and placed in a location rich with star thistle, creating a much different type of honey.
Schramm has to be canny, and must get to know beekeepers very well. "I'm pretty selective. I've spent a lot of time trying to get to know who's got what kind of honey supply. I'm usually buying from either beekeepers or collectives of beekeepers. … I basically spend a lot of time hanging out with beekeepers!" he says with more laughter. "So I've become a member of beekeeping clubs and attend conferences, which has allowed me to meet people and get connected. Once you get into those circles, people will direct you to good sources. It all helps you figure out which honeys have the kind of profile that will ferment out really well."
Schramm is especially alert to beekeepers who adhere to best practices. Some beekeepers may, for instance, be heavy-handed with the application of chemicals, or maximize profits by harvesting too much honey before winter and leaving the bees to rely on sugar throughout winter, stressing the colony. Like a fine butcher looking for perfectly marbled beef, Schramm has become a connoisseur of fine honey.
He explains: "One thing becomes evident: A clean hive will present a floral aroma from its nectar source really well. When beekeepers haven't done clean-up really well, honey can smell stale. You're looking for a clean and bright honey, and you can smell honeys side-by-side and tell which is floral. Those bees that are in clean environment, what they present to you is true to their source."
Again, with more laughter, Schramm tells of how he filled his basement with a "library" of jars of honey specimens, until his wife finally got on him to clean it out. Clearly, Schramm's monomania can get the better of him.
Building Buzz
Now, at 54, Schramm is finally getting into the production game. With laughing candor, he says, "I've had the books out for 10 years, and now I'm finally getting into the business when other people have had a five-year head start — and I've told them all my tricks! What kind of a businessman goes out and teaches everybody everything they need to know to be more successful than you are? Apparently that's me."
But he doesn't really see it as competition so much as a scene poised to hit critical mass.
"The more good mead that's out there, the whole industry benefits. Besides, there's still a lot of room in mead, a potential variety as great as that of wine."
But Schramm also has an ace up his sleeve, something that's "really in a different slot" — his treasured Heart of Darkness mead, which retails at $100 for a 375-milliliter bottle.
"It's made with a Belgian variety of cherries called Schaarbeek, the Belgian cherry that was used in Lambics. When I started brewing back in the 1980s, I got really enamored of Belgian Lambic beers and set out to find that cherry."
With these special cherries as its base, Schramm adds in red raspberries and black currants, crafting it deliberately to reach a level of complexity and enjoyability that he says rivals spectacular wines.
"I was trying to find something as beguiling as a first-growth Bordeaux and knew I was going to have to come up with something that's got real depth of flavor, that makes you shift back. And Heart of Darkness creates what I call the 'involuntary wow.' I've heard two people tell me, 'That's the best thing I've ever put in my mouth.' And that, to me, is the very best thing I can hear."
But isn't the literary reference a little bleak? A story about death? Schramm laughs again.
"Well," he says, with a telltale snicker, "I do terminate bottles with extreme prejudice."
Schramm's Mead is at 327 W. Nine Mile Rd., Ferndale; 248-439-5000; schrammsmead.com.