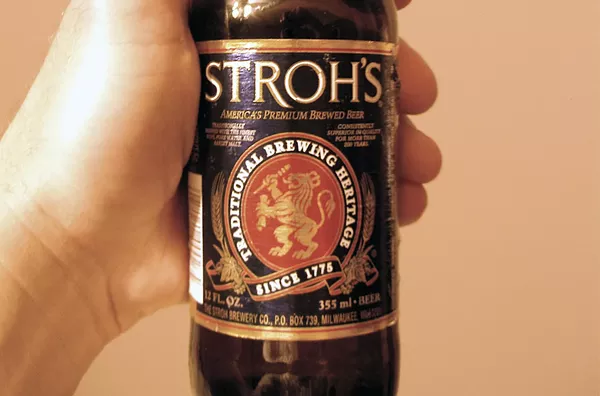 Former Detroit brewer Stroh's appears to be developing a new IPA.
Crain's
reports the company — which is now owned by Los Angeles-based Pabst Brewing Co., but is brewed at Corktown's Brew Detroit — received label approval Feb. 2 from the U.S. Alcohol and Tobacco Tax and Trade Bureau for a beer called Stroh's Perseverance.
There aren't many details available, and PBR Brand Manager Andy Gurjian tells
Crain's
that the IPA is "a concept we've been working on, but it's still in the development stages so there isn't much to share at this point. The art may change, as well as some other variables."
Crain's
also got a hold of the label, part of which reads, "With the heart of a lion, and the strength of Detroit, we are still here, still brewing."
The label also reveals the beer would be 4.5 percent alcohol by volume in a 12-ounce bottle, and is labeled a "session" IPA. Session beers are typically lower alcohol beers between three and five percent ABV and meant for a day or evening of long drinking. For those interested, a history of "session" beers can be found
here
.
Stroh's currently brews three lines — Stroh's Lager, Stroh's Light, and Stroh's Bohemian. The company brewed in Detroit until 1985 at its Gratiot Avenue plant, and the
Stroh family
sold the company to Pabst in 1999. It started brewing the Bohemian line at Brew Detroit in 2016.
So many restaurants, so little time. Find out the latest Detroit dining news with our weekly food newsletter delivered every Friday morning.