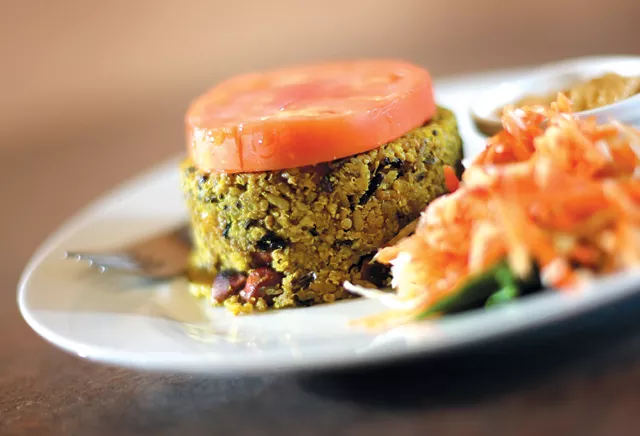 Hut-K Chaats
3022 Packard Rd., Ann Arbor
734-786-8312
Handicap accessible
Entrées: $5-$7
Open 11 a.m.-9 p.m. Tuesday-Saturday, 11-8 p.m. Sunday.
To hear Swaroop Bhojani explain why he left radiation oncology at the University of Michigan to become a restaurateur is to listen to a man on a mission. After a brush with Type 2 diabetes, the Ph.D. decided to learn to eat healthily, following such gurus as Michael Pollan.
But not all the Indian food he'd grown up with made the cut. A samosa, for example, he explains peas and potatoes, white flour, deep-fried is high in calories and low in nutrition: "nothing for the body." So he set out to invent his own recipes for Indian street food chaats. His mantra was to replace fried with baked, sugar with sweetening from fruit, and to shovel more nutrition into each dish.
The result is Hut-K Chaats, opened April 2, 2011 the day India won the World Cup in cricket. It's in the down-market eastern end of Ann Arbor, sharing space in a strip mall that yells "America is a nation of immigrants" (neighbors include a taquería, Makkara Sushi, Aladdin's and Binh Hair Salon).
That September, Hut-K Chaats won the most votes at a competition sponsored by Ann Arbor's Mark's Carts, a collection of eight food wagons downtown "with a vegan dish!" Bhojani exclaims.
He serves vegetarian dishes that are uniformly complex, with familiar Indian flavors but perhaps more of them per dish. Many items are labeled vegan or gluten-free, and there's an allergy warning for each.
A usual first question about an Indian restaurant is "how's the mango lassi?" and Hut-K's is lovely, thick and fruity, but not for the lactose-intolerant, of course. Luckily the Mango-Avocado-Soy Shake (vegan) is even better, with the sweet-tart mango taste first and then a minor rush of rich, fatty avocado, a perfect pairing. We weren't as thrilled with a Masala Lassi, with cumin, which to the uninitiated had an unpleasant foretaste. There's also carrot juice with ginger and lime, and Khojani advocates the cleverly named Beats Me Gin, which combines beets, ginger, lime and agave. He goes through so many beets that he has contracted with a local farmer to grow for him; same with mint, of which he uses 40 pounds a week.
Though chaats are defined as street food, you need a plate and fork for most of Hut-K's offerings. Aanokhi Pani Puri, for example, is hollow crisp spheres of semolina, served with a cool green sauce of mint-cilantro-spinach its heat sneaks up on you and a warm mix of peas and chickpeas. Break off the top and spoon the accompaniments in, but don't try walking and eating.
Shanu Chaat is spiced crushed chickpeas rolled in colocasia (taro) leaves and mixed with potatoes, peas, more chickpeas, baked multigrain chips and various sauces, then sprinkled with crunchy confetti made from chickpea flour. Lots of different flavors going on; I thought I detected cinnamon.
One of my favorites was Chole Tikki Chaat, two heart-shaped patties of carrots, potatoes and peas topped with a chickpea mixture that somehow has a roasted flavor, though it's not. This is one of the dishes where one of the many flavors is sweet; Bhojani uses dates "rich in potassium, high in fiber" instead of sugar.
A tasty anomaly on the menu is Pav Bhaji, an ordinary white-flour roll served with a thick, spicy tomato sauce, chopped onions and a squeeze of lemon.
Bhel Puri is made of puffed rice yes, like Rice Krispies little chips of lentil flour savories, onions, tomatoes, cucumbers and green mangoes and peanuts, with more of the ubiquitous chickpea confetti. It's beautifully crunchy, and Bhojani is pleased to explain how he found a supplier that could bake his special flatbread as crisp as required, to substitute for fried.
That flatbread is made with 15 different grains, many intact rather than pulverized, including two millets, quinoa, amaranth and spelt, and served with two chutneys, both made from raw ingredients including lots of nuts. Some of these healthy grains have a nutty taste anyway, but walnuts, peanuts and almonds are a definite bonus.
This is America, so there is pizza, of a sort, as well as wraps. I found the flatbread pizza crust with nuts, a sauce of carrots and red peppers, and toppings of corn, spinach and mozzarella just dandy, and pretty too. Wraps in a bendable flatbread are multilayered. The Samosa Wrap, for example, starts with a sauce of mint, cilantro, kale, Swiss chard and spinach; adds a sauce of tamarind, dates, mango and lime; then lentils; and finally a filling of potatoes and peas, mixed with cumin, coriander, mustard and turmeric (the latter an antioxidant).
Hut-K is a fairly barebones operation, though the walls are a lovely melon color. Order at the counter, get your own water, bus your table. Portions are sometimes on the small side, not compared to what we need to feel full or be healthy but compared to the Big Gulp, big gut mentality of other restaurants.
Hut-K's food also shows up at Mark's Carts, 211 W. Washington, Ann Arbor, for lunch and dinner.
Jane Slaughter dines for Metro Times. Send comments to [email protected]