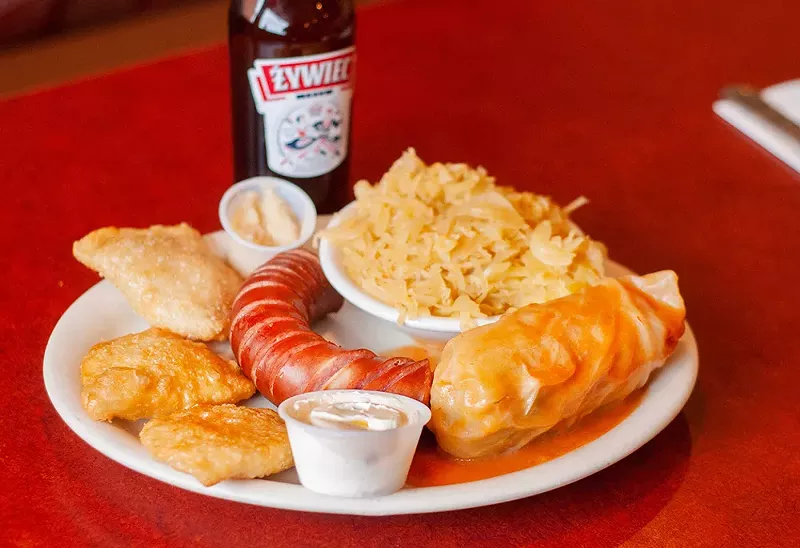 There's no specific recipe for success for restaurateurs. Aside from the good food and service essentials, the mix of elements that can make for a long run in this business get muddled. Dining trends come and go. Success can be fleeting when feeding fickle consumers. One day, you're getting five-star Google reviews galore. The next, you're a vape store.
Since 1996, Steve's Family Dining in Livonia has earned its keep catering to family dining crowds, serving up an ambitious breakfast, lunch, and early dinner menu that's part Polish at heart and entirely homespun and hearty. After three squares thoroughly enjoyed there over the course of as many visits, I'm left sated with a sense of appreciation for what the Nedanovski family makes work for them — a neighborly approach to mom-and-pop hospitality that's timeless, tasty, and welcoming.
Let's start with Felicia, the waitress who made me feel right at home the first time I wandered into Steve's. Her Slavic-sounding accent — along with the Polish Eagle coat of arms I saw hung above the front counter and the all-Polish meal I ordered — led me to suspect she and I shared a heritage. Turns out, she's Romanian, and charming as can be, calling me and everyone else in her station "my dear," giving quick back rubs to (presumably) her regulars, and then sending folks on their way with an absolutely sincere, "Have a good day to you." While Felicia didn't give me a back rub (too soon), she fed me heart and soul with a cup of classic czernina ($1.69!), that prune and raisin-sweetened broth notorious for its poultry blood component, as a prelude to my Polish combo: a bun-length segment of boiled, garlicky kielbasa, served with gravy-smothered city chicken (tender, breadcrumbed veal and pork kebab), puckery stewed cabbage, and three palm-sized pierogi (potato, kraut, dry curd cheese). Smaczne! ("Yum," more or less, in the native tongue.)
On a Friday visit during Lent, I started with Steve's onion rings ($4.49). Talk about value perception. My four bucks and change afforded me a plateful of the lightest and crispiest (hand-battered, by the way) onion rings I've ever devoured. Continuing on with the former-good-Catholic theme, I followed up with "Friday Special #1," netting myself two plump and piping hot portions of deep fried cod, two potato pancakes as big as pickleball rackets, and nalisniki (stuffed crepe), not classically filled with cheese and fruit in this incarnation, but a jam that tasted just like strawberry Pop-Tart filling. No complaint there. Finishing up, I noticed a few of my fellow customers doing the same: two old friends, laughing and pointing at each other's bellies as their empty plates were picked up, and a woman I might have gone to high school with circa 1980 with frosted Farrah Fawcett hair, refolding her newspaper. People linger over coffee and close conversation here. Steve's is that kind of place. If the food's not haute cuisine, everything's rock-solid and well-seasoned with convivial service. Prices are right. Portions are more than generous. And that's all added up to something sustainable for the restaurant's longtime owner-operators and a customer community that continues to support a place where they've found such sustenance in abundance.
By my third sitting at Steve's, I'm already sold on what they've long been selling. This time, I'm blown away by the best corned beef hash ever ($8.99, with two eggs, hashbrowns, and toast). Loosely and lightly sauteed, it's spectacular. If, like me, you've always been satisfied with the pancaked, hard-grilled kind, you seriously need to try this version. A classic Greek gyro that I ordered afterward was as good as any, with fragrant slivers of grilled, ground lamb hammocked in a warm pita, served with tzatziki as garlicky and herbaceous as the Greek food gods intended.
Again, I catch my breath a moment. And that's when I caught Willie, one of Steve's cooks, out of the corner of my eye, face down on a table next to the kitchen. He looked dead to the world. When I asked Connie, my server, if he was OK, Willie heard me, sat up, introduced himself, and explained.
"I'm just on break is all," he chuckled. "Workin' a 9-8 shift." When he got up to get back to it, I noticed his limp, just like mine.
"Yep, just had knee replacement," he said. "But it's coming along." Hope this review finds you well and rested, Willie.
Dessert wouldn't have happened for me at Steve's had it not been for Felicia, who wasn't my waitress that day. Nonetheless, she made me feel special again.
"Here. Free sample," she said. "Polish baklava." Felicia plunked a nice little chunk of pastry in front of me, which she'd plucked from a private luncheon breaking up in the dining room near where I'd been seated. It was flaky, dripping with honey, and flecked with walnuts. Yes, please and thank you so much.
"What was the occasion over there?" I said, making small talk with my new friend.
"Pickerel party," Felicia shrugged. "Enjoy. Have a good day to you, my dear."
The last group I noticed before leaving Steve's was a family taking up another big table close to mine. A grandmother was gushing over her toddler grandson's "healthy appetite" as he shoveled bacon into his mouth like so many branches into a woodchipper. Their waitress stood tableside, admiring right along, addressing both Grandma and the little boy by name.
On the way out, I approached a young teen bearing a strong resemblance to one of the owners. I'd watched him busily bus tables during all of my visits. Now, he'd paused to look out a window and watch three guys his age playing outside in the snow. The wish-I-was-them look on his face was apparent.
"The difference between you and them is," I tapped him on the shoulder to whisper a prediction. "You're going to grow up and run a great place like this."
Coming soon: Metro Times Daily newsletter. We'll send you a handful of interesting Detroit stories every morning. Subscribe now to not miss a thing.

Follow us: Google News | NewsBreak | Reddit | Instagram | Facebook | Twitter