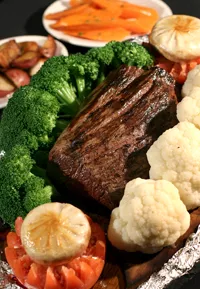 When Detroiters need a red-meat fix nowadays, they generally head for a chain like Outback or Lone Star at one end of the price continuum or Ruth's Chris or the Capital Grille at the other. There are those, however, who have known for 40 years that Mr. Paul's Chop House, a homegrown one-of-a-kind establishment in prosaic Roseville, can compete with the best of the national chains. There was a time when every town had a Mr. Paul's, where locals, wearing coats and ties and skirts and heels, came to celebrate birthdays, graduations and engagements. East siders still party at Mr. Paul's — albeit in less formal attire.
Brothers Paul and Peter Gogo founded Mr. Paul's in 1968 — Paul's sons, Paul Jr., Chris and Peter now run the place while other members of the family manage the Brewery in Clinton Township and the Fourth Street Grille in Rochester. They do more than run and manage: In perpetual motion, they prepare most of the labor-intensive, flamboyant tableside dishes and still find time to serve, bus and chat up their guests, many of whom have been regulars for years. Regulars on staff include the chef, John Gangler, who has been in the kitchen for 30 years and the hostess, Sharon, who has been out front for 19. Linda, our highly skilled server on one occasion, is still considered a rookie after 10 years at Mr. Paul's.
In its freestanding, ordinary building in a nondescript, mostly light-industrial area on Groesbeck Highway north of 12 Mile Road, Mr. Paul's appears frozen in time in terms of decor, service and cuisine. The dimly lit, low-ceilinged, brick-walled structure can seat 200, half of whom can smoke up a cloud in the spacious lounge, as if the surgeon general had never made his report.
They begin their meals with such classics as escargot bourguignon ($9.95), six exceedingly plump snails presented out of their shells, awash in a very rich buttery sauce, a bit light on the expected garlic. It is difficult to fault the generous portion of meaty and tender fried calamari ($8.95), atop a lemony sauce enlivened with capers and red peppers. Mussels in white wine, oysters on the half shell and shrimp cocktail are other appetizers.
But almost everyone starts with the Caesar salad ($13.95 for two), carefully hand-crafted tableside by the brothers who perform graceful acrobatic maneuvers to transfer ingredients from one part of their cart to a wooden bowl. The creamy, mildly garlicky end product, which ranks among the best in town, will spoil forever those who have thought that Caesars served everywhere from McDonald's to you-name-it are the real thing.
Among the soups that come with dinner, the seafood bisque, overflowing with morsels of fish and shrimp, is superior to the French onion, which, while admirably cheesy, may strike some as too salty. Both are more interesting than the tossed salad alternative, which, of course, you will probably not have ordered because of the virtually mandatory Caesar.
At most of Paul's tables, at least one of the patrons, usually more, are there for the beef dishes that average a reasonable $25. The most popular is the Chateaubriand for two, another tableside extravaganza, that arrives flambé from John Gangler's kitchen. He usually hits his mark delivering the steaks as ordered with the tricky rare order especially carefully prepared. Although both are perfectly tender, the Black Angus New York strip is more flavorful than the fillet. Others in this genre are tournedos with Bordelaise sauce, veal Oscar and seldom-seen sautéed calf's liver with bacon or onions.
Fish mains are highlighted by pickerel, stuffed flounder and Dover sole. Also appearing in the seafood section of the menu are roadhouse-style frogs legs, which like the aforementioned escargot and calamari, are unusually plump. Vegetarians will find little of interest at Mr. Paul's.
The one false note relates to accoutrements — the cellophane-wrapped crackers that accompany the warm rolls and breadsticks and the little sealed pats of butter diminish the classy experience.
Not surprisingly, the elegant wine list is weighted toward the reds, dominated by big California and French varietals, most of which cost more than $50 — and some of which climb into the stratosphere of triple digits. Wine Spectator has judged the selection worthy of awards. Fortunately for the budget-conscious, the Gogos offer a handful of house pours that can be purchased by the bottle at prices that range from the mid-20s to the mid-30s.
Aside from an attractive pastry tray, Mr. Paul's is celebrated for its cherries jubilee ($12.95 for two), another old-fashioned incendiary creation.
The veteran staff is so attentive, from the owners down to the buspersons, that one sip from your water glass will magically bring forth one of them to top it off immediately. If anything, they fly around a bit too much, adding to the bustle of an already boisterous place.
But bustle is part of the mystique of the popular steakhouse presenting retro fare rarely seen in Detroit these days. While other restaurants vie with one another to introduce the latest cutting-edge food fad imported from the coasts, Mr. Paul's brings diners more traditional haute cuisine that has pleased Americans for generations.
Mel Small teaches history at Wayne State University. Send comments to [email protected].