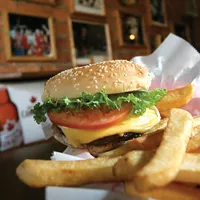 Although I love hanging out in restaurants, I also enjoy my day job teaching history. Only rarely can I combine both pursuits. Perhaps that's the reason I'm fond of the venerable Anchor Bar on Fort Street in Detroit. Predating Prohibition, this fabled institution is crammed full of vintage local political, media and sports photos and memorabilia, some of which must make the curators at the Detroit Historical Museum envious.
On a tour of the well-worn unadorned bar and grill, you will discover pictures of former mayors Jerry Cavanagh and Coleman Young, television reporter Ven Marshall, hockey sticks autographed by Joey Kocur and Bob Probert, a trifecta of UAW presidents Walter Reuther, Leonard Woodcock, and Douglas Fraser, a special section devoted to Monsignor Clement Kern, and a rogues' gallery of Detroit police commissioners. The Anchor even keeps its newspapers in an archaic wooden stand emblazoned with the name Detroit Times, a rag that ceased publishing in 1960.
There has been an Anchor Bar downtown in one place or another for generations. Leo Derderian, a colorful character who purchased it in 1959, moved it to several different locales over the years until 1993, when he took over the 80-year-old building on Fort that used to house a florist.
According to Leo's son, Vaughn, who now runs the place, one of his father's earlier moves was precipitated by a conflict with Martin Hayden, the editor of the Detroit News. Angered by the fact that so many of his employees drank their breakfast, lunch and dinner at the nearby Anchor, and also because the legendary Doc Greene, his star columnist with whom he did not get along, was a silent partner in the bar, Hayden's News bought the building and began eviction proceedings.
Today, the Anchor no longer relies on journalists to get by — there are fewer of them thanks to the JOA, continuing downsizing, and the fact that young journalists, including those at the Metro Times, don't drink like their predecessors. Today, aside from the police, politicians, hockey-goers and neighborhood types who still frequent the bar, casino workers have adopted the Anchor as their gritty home away from the glitz of their workplaces. In addition, transitory patrons included several National Guard generals and other military officials who famously refreshed themselves at the Anchor when off duty during the 1967 civil disturbance.
They all come to eat waxed-paper-wrapped burgers, sandwiches and bar food from polystyrene plates with plastic utensils. The most popular burger is the Avah, named after Vaughn's sister, a double-decker, loaded with ham, Swiss and American cheese ($5.50). Cooked impeccably to order, thick and juicy, it is still one of the better burgers in town. The chunky crisp steak fries and creamy coleslaw sides are worthy accompaniments.
Of the iceberg-based salads, served with packets of commercial dressings like Ken's, the Greek, overflowing with feta chunks, is more appealing than the Maurice, unless you are addicted to American cheese. Unlike the dressings, the hearty soups are house-made in the open kitchen by Brad, who has been working the day shift at the Anchor for seven years. His cheese-and-broccoli is tangy, and the tomato is silky-smooth and deftly seasoned. Brad also does an admirable job with his savory chili, which is laden with meat and mildly hot. For a modest $5.75, you can have a cup of soup and then select a go-with sandwich from among ham, tuna, turkey, chicken salad and grilled cheese with bacon.
Even more impressive in terms of cost-benefit is the surprisingly ample portion of succulent, deep-fried walleye ($5.50) that comes with fries and a coleslaw basket. Among other items on the menu are Reubens, a steak sub, buffalo wings, popcorn shrimp and, for the few kids who wander in with their folks, chicken fingers. The closest the Anchor comes to dessert are the doughnuts that constitute part of its breakfast served from 7 to 11. These days not everyone drinks their breakfast.
This is primarily a beer-and-shot joint with a Miller Lite draft, for example, going for $3 at the bar that dominates one side of the long narrow room. Vaughn makes a modest genuflection toward wine drinkers with Copperidge, red, white and pink, available at $3.50 a glass. For recreation, he provides several TVs generally tuned to sports, two pool tables, a juke box, and a venue for some of the liveliest and occasionally profound conversations that you will ever hear.
Although its casual cuisine is more than respectable, the Anchor remains a neighborhood watering hole. When several competitors had to close during the recent long hockey strike, those Anchor regulars who often stay home when the boisterous hockey crowd shows up were happy to have more nights to themselves.
In addition to the goings-on out front, there is an expansive, somewhat more elegantly decorated room in the back that may be reserved for banquets or pre-hockey night parties.
Whatever the occasion, if you need a quality late-night burger and a history fix, the Anchor, which closes at 3 a.m., should be your destination. No other historical "museum" maintains such long hours.
Mel Small teaches history at Wayne State University. Send comments to [email protected]