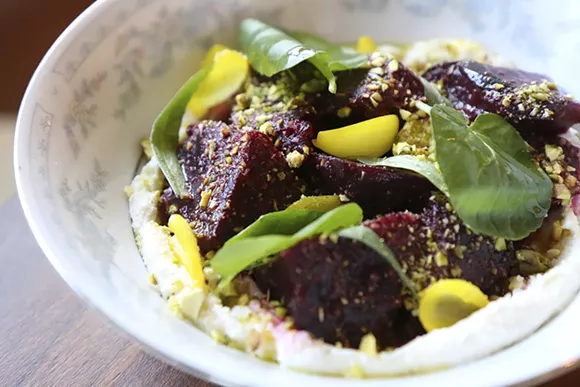 This week, a handful of Detroit area chefs were named Rising Stars of the Rust Belt by influential restaurant industry publication,
StarChefs.
Among the winners in the chef are several heavyweights in the local dining scene, including Brad Greenhill (Katoi), Nick Janutol (Forest), James Rigato (Mabel Gray), and John Vermiglio (Grey Ghost).
Accolades also went to Ben Hall )best community chef, Russell Street Deli), Lisa Ludwinski (pastry chef Sister Pie), Joe Robison (bartender, Standby), Shaun Page (sommelier, Wolfgang Puck Grille), and Dave Kwiatkowski (restaurateur, Detroit Optimist Society).
Each year, the online publication highlights the culinary achievements of four cities. This time around, recognition went to the so-called Rust Belt cities of Detroit, Cleveland, and Pittsburgh. Editorial staff visited each city earlier this year to check out the work of 130 chefs, pastry chefs, bartenders, sommeliers, brewers, and others.
As StarChefs managing editor Will Blunt explains, according to our sister paper,
Cleveland Scene
: "So many Rust Belt chefs left the region to train and work in Chicago, New York, and San Francisco, but at the end of the day, they came back because they believed in the potential of their hometowns."