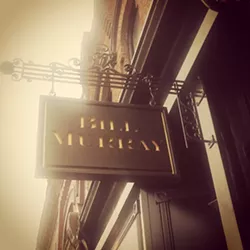 Tonight is the night to commemorate The Sugar House's four-year anniversary. And to mix things up for the celebration, the folks at the crafty cocktail saloon set out to recast the spot as Bill Murray. Oh, so a Bill Murray-themed party, featuring the actor's films on the menu and a bunch of people dressed up in Ghostbusters costumes, right? Well, yeah, that. But also the bar went so far as to take down its massive, wooden Sugar House sign and replace with Bill Murray and they plan to keep it there just as long as possible.
One of the bartenders tells us this scheme has been in the works for about a year. And given the perfectionist nature of the joint (you've seen the perfectly-chiseled ice cubes and, um, guns on some of the bartenders who feverishly shake each cocktail), they really went all out. The new sign is nearly as impressive as the original one. The special edition menu won't just last during the anniversary festivities, but throughout the fall and winter. It features drinks inspired by several of the star's most popular movies: the Au Revoir, Gopher from Caddyshack; The Society of Crossed Keys from The Grand Budapest Hotel; and our personal favorite, Ectoplasm Cooler (think a boozy version of those Ecto Cooler Hi-C juice boxes you enjoyed as a kid). We would have liked to see a Groundhog Day cocktail on the list, but hey, the dude made so many awesome movies, the list would take over the bar's entire drink menu.
We're told the speakeasy has not tried to reach Murray. The actor is kind of eccentric (ya think?) and does not have an agent with whom he can be reached. Instead, if you want to pitch a script or get in contact with him, he's got an 800-number with a robotic voicemail message that instructs callers to leave a message. It's not exactly an easy number to find, and of course, it's entirely possible that the number story is just part of Murray's lore. Still, if anyone out has it, please send it our way. We wouldn't be opposed to catching the actor show up unannounced to enjoy a cocktail with locals. And also don't miss the Sugar House celebration at 5 p.m. today, Oct. 7.
Chef Mario Batali Tours Detroit
In other celebrity news, TV Chef Mario Batali made a stop at several popular eateries in the Motor City over the weekend, in celebration of his son's birthday. He took to Instagram and Twitter to document his journey, which included Gold, Cash Gold, Michael Symon's Roast, Our/Detroit, the murals at Eastern Market and the Heidelberg Project. Those of you who follow Batali, you already know he's a huge fan of all things Michigan and spends his summers in the Mitten State, where his wife is from.
Check out his field trip here: