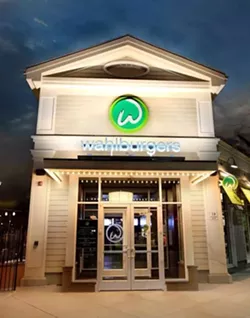 Beefcake Mark Wahlberg will be jumping on to the Detroit restaurant bandwagon when he opens one of his Wahlburgers outlets in Greektown as early as next summer.
In an
interview with Fox 2
, Wahlberg said he is working with downtown real estate mogel Dan Gilbert in securing a location.
Bedrock Real Estate Services confirmed with us that Wahlberg is indeed in negotiations to open the new branch.
"As Mark Wahlberg stated, we are working very closely with Mark and Wahlburgers to create a great location for them in the Greektown area," says Bedrock executive VP Dan Mullen in a statement.
The Academy Award-nominated actor launched the growing chain in his home state of Massachusetts in 2011. It has since grown to include locations in Florida, Nevada, New York, and Pennsylvania. The house burgers are topped with the signature "wahl sauce," onion, dill pickles, lettuce, tomato, and "government cheese."