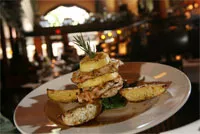 For a mind-numbing choice of swanky restaurants, stroll down Ann Arbor's Main Street on the block between Liberty and Williams. When the tables are on the sidewalk on a sunny day and you've got plenty of cash to spend, you could be excused for forgetting that this isn't the way most people live their lives most of the time. You could start to feel entitled.
Four of those ritzy restaurants belong to Main Street Venture, which has also created 14 other spots in Michigan, Ohio, Florida and West Virginia. At 20-year-old Gratzi, they've established a crowd-pleasing bastion of (mostly) northern Italian cuisine. ("Gratzi" is a phonetic spelling of the Italian word grazie, or "thanks.") It's inside the old Orpheum Theatre, a Depression-era movie palace; a statue of Orpheus the musician is perched above the diners, along with a mural in which the nymphs and sprites appear to be having more fun than is legal.
Each month the chef's specials star a different region of Italy, giving regulars plenty of reason to return. In June, it's Abruzzo, on the Adriatic and known for its use of hot red pepper; in July, it'll be Campania, hardly in the north, but famous for Naples pizza.
With the exception of a boring and one-note minestrone, we found everything we tried at Gratzi to live up to the mouthwatering menu descriptions. Even the tiramisu harked back to the days when tiramisu first became a craze in America.
One companion tried an Abruzzo risotto special. Listen to the ingredients: white wine, saffron, fresh mozzarella, arugula, roasted chicken, chili oil. The hot chili gave a jump to a dish that can sometimes be so rich that it's bland.
Likewise gnocchi with shrimp, applewood bacon and tomato sauce were spiced up with red pepper flakes. Made from potatoes, these gnocchi had a melt-in-the-mouth quality that bespoke a loving hand in the kitchen. Gnocchi are worth ordering in any case, just to say the name out loud.
One of Gratzi's most popular offerings is the antipasti buffet, where a little sign informs you that the items are changed every three hours, for freshness. This seems unnecessary in a joint with pretensions to class, but never mind: The grilled vegetables; marinated olives and mushrooms; prosciutto, cappicola and sopressata make for hearty appetizers, at only $12 for two.
We tried a ravioli appetizer stuffed with butternut squash, bathed in a sherry cream sauce and scattered with walnut halves. Again, hearty but divine. I would move this one to the pasta column, as it tended more to sate than to pique the appetite.
Another version of ravioli was stuffed with goat cheese and tossed with pancetta, tomatoes and basil. I love it, in an Italian dish, when the tomatoes are not just a throwaway, when they add a fresh taste that's discernible and worthwhile on its own. The real star here, though, was the complex roasted garlic broth, which bathed all components in its warm, bracing aura.
Linguine del golfo (gulf) pairs shrimp, mussels and scallops with a basil pesto, which sounds incongruous but isn't, because the sea flavors thoroughly permeate the appropriately nubbly pasta, obscuring the basil's contribution.
An extensive wine list is Italian and American, with bottles ranging from $20 to $261. Ordering from the cheap end, I got what I paid for, a weak and disappointing cabernet. This is how restaurant owners teach us to go upscale.
For dessert, sorbetti, gelati, cannoli and tiramisu are all made in-house. A blood-orange sorbetto, for example, will make you ask why this citrus is not better known in America.
All the layers of my tiramisu — not just the mascarpone but the cake too — were so ethereal as to defy gravity and belie the calorie count. The healthful berries that most restaurateurs now add to the most sinful desserts were beside the point. This was a tiramisu where coffee and chocolate, Marsala and butterfat were at their combined best.
Gratzi offers fish, chicken, veal, pork and beef dishes as well, including an Angus porterhouse that may owe more to the Venture restaurant next door, the Chop House, than to Italia. In between the two is a separate establishment, La Dolce Vita, where patrons can visit the cigar lounge downstairs or enjoy ports, cognacs and single malts upstairs.
Like I said, entitled.
Jane Slaughter dines for Metro Times. Send comments to [email protected].