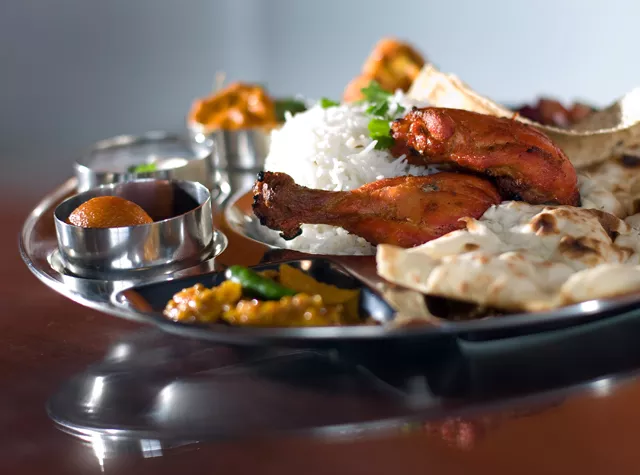 Phulkari Punjabi Kitchen
27707 Dequindre Rd.
Madison Heights
248-541-3562
Handicap accessible
Snacks & small plates: $3-$6
Entrées: $8-$10
Open 10 a.m.-9 p.m. Tuesday-Thursday, 
10 a.m.-10 p.m.
 Friday-Saturday; 
10 a.m.-6 p.m. Sunday; 
closed Mondays.
Friends often used to point to a down-at-the-heels strip mall on Dequindre just north of 11 Mile and say "You know, there's an Indian restaurant in there with a great lunch buffet." The restaurant, Indo-Pak, was known for its quality of food if not its ambience, which people described in terms ranging from "lacking" to downright "dingy and depressing." Many considered Indo-Pak to be suitable for carryout only, or would dine in begrudgingly, writing off the glum surroundings as the trade-off for an inexpensive and tasty meal.
Somewhere along the line, the owners must have gotten the message that their establishment was known as much for its hole-in-the-wall status as for the quality of the food, and they decided to renovate. The new space, while still in the shabby strip mall, has been done up with glossy, lacquered paint in bright white with hot pink and orange accents and a spiffy new graphic logo. In addition to modernizing the decor, the restaurant is making a concerted effort to modernize its marketing, with signs encouraging patrons to follow and "like" them on Twitter and Facebook.
While most certainly an improvement, the dining area is reminiscent of a cafeteria, albeit a hip one. The service is an amalgamation of counter and table service, where you place your order at the counter and it's brought out to your table. If you're in need of anything during your meal, you'll likely have to hop up to ask for it. This is the new trade-off: the level of self-service may be a deal-breaker to some, but it ostensibly allows the owners to keep prices low and focus on the food. And budget-conscious diners may appreciate the fact that this model leaves much ambiguity as to whether a tip is expected (there's no tip jar, and no space to write in a tip on credit card orders).
With prices being as low as they are (nothing exceeds $10), it's a good excuse to try a few of the small plates or chaat (snacks) on offer. Some are familiar, but there were many I've never encountered elsewhere. In the standards department, we tried samosas with a traditional potato-and-pea filling, and onion pakora. The samosas had a good shell-to-filling ratio with pleasantly spicy filling, but the potatoes had soaked up a lot of grease, usually a sign of old fryer oil. Made with fresher oil, these would have a lot of potential. In contrast, the onion pakora — clumps of onions fried in a spicy chickpea batter — were fresh, crispy and addictively good dipped in the sweet-sour tamarind chutney.
In revamping the menu, Phulkari nixed the buffet and instead offers traditional Punjabi thalis. A thali is basically the Indian version of a "combo plate" — a choice of three main dishes with rice, naan or roti (two types of flatbread), cucumber salad, Indian pickle, chutney and a dessert. As someone who always finds myself wanting to order at least three different dishes at Indian restaurants, the thali is the perfect solution. For $8, you can get a thali with three vegetable dishes, and for $10 you get three meats. It's easy to see the advantage over most places, where you'd have to order each dish and side separately and could easily spend three times as much for the same variety. There are also other types of entrées offered (biryanis, tandoori dishes), but for my money, the thali is where it's at.
On my initial visit, I ordered the meat thali with butter chicken, curried lamb and tandoori chicken. Although lamb is typically a favorite of mine, theirs was on the fatty, gristly side. This may be a cultural bias on my part, as I know some cultures enjoy those textures, but for me it was a turnoff. The tandoori chicken, while unexciting flavor-wise, was fall-off-the-bone tender and moist. The best of the three dishes was the butter chicken, a flavorful comfort food with sauce that demanded mopping up with naan. All of the meat dishes were mild, but the kitchen will gladly accommodate requests to dial up the heat.
Although I'm typically a meat-eater, I'm inclined to recommend the vegetarian dishes at Phulkari over the meat. On one visit, a friend and I ordered a vegetarian thali and two traditional Punjabi dishes, the gobi paratha (a wheat flatbread stuffed with cauliflower) and the maki roti with saag (a cornmeal flatbread with pureed greens on the side). Both of these came two to an order and were the size of dinner plates. The maki roti and saag was a particular favorite of all who tried it. The veggie dishes on the thali — a sautéed cabbage, paneer tikka masala (cheese in a spiced sauce), and a dal (spiced lentils) — were all well seasoned and full of flavor. The food at Phulkari isn't suitable for vegans, as butter is used throughout, but vegetarians will find plenty to love.
Although it might not win any dining-room-of-the-year awards, Phulkari's facelift and menu updates have definitely taken it out of the "carryout only" category. If you're the type who goes out to eat mainly for the ambience or the experience of being waited on, you'll admittedly do better to look elsewhere. But if you're a fan of Indian food and your goal is to sample a variety of dishes at wallet-friendly prices, there's a very good chance you'll become a regular.
Noelle Lothamer dines for Metro Times. Send comments to [email protected]