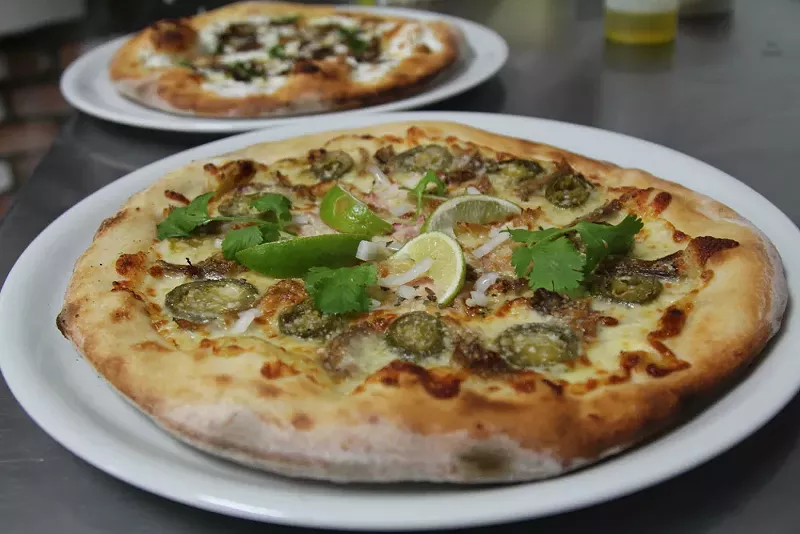 Southwest Detroit brick-oven pizzamaker Pepe Z is now El Club Pizza.
El Club owner Graeme Flegenheimer tells
Metro Times
that Matt Ziolkowski — aka Pepe Z — is no longer with the venue, and Flegenheimer is relaunching the brand as El Club Pizza.
What will that mean for Pepe Z fans who check out El Club Pizza for the first time? Flegenheimer says he kept some items from the old pie repertoire, but made some notable additions and adjustments to the menu.
Among those is the Arugula Arugula 2.0, which now has fresh pesto as a base along with mozzarella and cherry tomatoes to "balances the bitterness of the arugula."

Flegenheimer notes the MC5 — Meat City 5 — is "a tribute to our boys" and comes with mozzarella, soppressata, prosciutto, bacon, pepperoni, onion, grana padano, fresh basil, and a sesame crust. 


Flegenheimer collaborated with NYC's Best Pizza owner and host of Vice's
The Pizza Show
, Frank Pinello, to develop Rosemary's Kid. It holds mozzarella, goat cheese, caramelized onions, fresh rosemary, minced roasted garlic, grana padano, Michigan honey, and a sesame crust. 

"It's a phenomenal, savory, decadent pie," Flegenheimer says.


The pizza menu includes two vegan options made with cashew cheese, though the cheese can be used on any of the pizzas. Flegenheimer says there are more vegan pies to come.
"I'm working with someone who cooks vegan, so I'm experimenting with some more recipes, and once I get back to the laboratory I'll start fiddling around and see what we can dream up for vegans," he says.
Beyond that, El Club Pizza is making its salsa verde and carnitas for its W. Vernor Taco Truck pizza in house. And the new menu includes nachos made with Honey Bee Market's chips that are cooked in the brick oven, chicken wings, cheese bread, and more.
Starting May 1 El Club Pizza will be open for lunch Thursday through Sunday from 11:30 a.m. to 3 p.m. Orders are delivered via Uber Eats and GrubHub, and El Club Pizza now has a dedicated pizza line that can be reached by calling the venue's general number. Pizzas can be picked up at the box office so even if there's a show at the venue, customers don't need to enter and fight the crowd.
El Club is hosting two pizza nights to roll out and celebrate the new menu. The April 8 and April 15 events include deejay sets from Jeffery Sfire, Geoffrey LaRue, Max Daley, and Ryan Spencer.