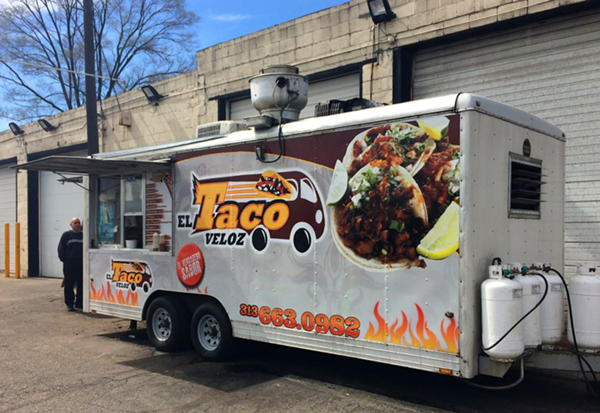 El Taco Veloz taco truck is running a new location in the former Alley Taco space in Midtown's Marcus Market.
Eater
reports that the Veloz location opened around three weeks ago, but the truck at Toledo and Livernois is still rolling.
Alley Taco
opened a new location
on Willis near Avalon in June. Marcus Market had raised the rent from $1,500 to $3,500 per month, though it's not known whether that's what Veloz is paying. The
Juice Joint also recently opened
in Marcus Market.
As we previously wrote of Veloz in our
coverage of Southwest's taco trucks
, "Veloz's best taco is the
asada
– griddle-crisped shards of salty steak come wrapped in a warm corn tortilla that's served under a small mound of cilantro and diced red onions. Also check out the
al pastor
which are on the sweeter side of Detroit's
pastor
spectrum, and that sweet-savory balance makes them better than most. The super flavorful tiny crumbles of
chorizo
are another winner. As a bonus, the tacos arrive with a wad of caramelized onions and a charred, spicy, dark green jalapeno."