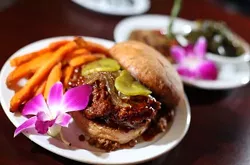 Southern Nosh
29540 Northwestern Hwy.,
Southfield
248-352-1682
southernnosh.com
Handicap accessible
Entrées: $8-$11
Small plates & sides: $3-$10
Open 11 a.m.-9 p.m. Tuesday-Friday, 2-9 p.m. Saturday-Sunday,
closed Mondays.
Patrick Coleman is an entrepreneur who sees a niche and seizes the opportunity to fill it. Coleman, owner of Southfield's popular soul food restaurant Beans & Cornbread, ran a vegetarian sloppy joe as a menu special a while back; its sales far exceeded his expectations, which got him thinking about the market demand for vegetarian food. Not long after, a space serendipitously opened up just a few doors down from his restaurant on Northwestern Highway, and he snapped it up. Southern Nosh is now open for lunch and dinner and serves vegetarian takes on a variety of popular soul food dishes (along with one fish entrée per day).
The menu is straightforward and concise, with a small plates section, a few sandwiches, some entrées based around wheat gluten "cutlets," and more than a dozen sides that will be familiar to anyone who's ever dined in a soul food restaurant (including mac and cheese, collards and fried okra). Complimentary warm cornbread is brought to the table as you await your food — a homey, welcoming touch.
On our first visit, we started our meal with the fried green tomato appetizer. The slices were breaded with a thin, crisp cornmeal batter and served with a honey mustard sauce that had a nice tang to it. At $6 for four small slices, they weren't one of the better values on the menu, but everyone at the table gave these a big thumbs-up on flavor. Other choices on the small plates menu include tempura-fried pickles and a vegetarian quesadilla.
Although you could easily build a meal out of side dishes and appetizers, most of the people in my party opted for the entrées of wheat gluten (aka seitan) cutlets. Since "wheat gluten" doesn't necessarily sound very appetizing, the dishes are euphemistically labeled as "boneless breast" or "fried fillet." We tried a few preparations over the course of a couple visits: the jerk-style, barbecue and Cajun-style cutlets. As an omnivore who loves vegetable dishes but doesn't often eat meat substitutes, I was somewhat skeptical. However, my Jerk Grilled Protein was about as good a meat substitute as I've had. Nicely spiced with a hint of clove and cinnamon and a little heat, it was topped with a pineapple relish that helped round out the flavors. My vegetarian companions were satisfied with their meals as well, although the gumbo on the Cajun cutlet was quite salty. Another friend tried the sloppy joe sandwich, made of soy protein crumbles, and praised its slightly sweet sauce.
We never did try the fish dinner, which is listed on the menu only as the seafood special, but when we inquired one night, our server informed us that we could get whitefish prepared "pretty much any way you like." We also noticed a taco salad in a fried tortilla shell on display by the cash register; although the server didn't mention it when taking our orders, we assumed it was also a special.
Every meal comes with a choice of one side dish, and this is where the restaurant stands out. We tried collards, red beans and rice, sweet potato fries, and mac and cheese, and although not everyone finished their entrées, the sides were wiped clean. The collards and beans and rice were on par with any non-vegetarian version I've had, and the sweet potato fries were light and crisp. The mac and cheese is the same recipe as at Beans & Cornbread, and although the cheese is of the easy-melting variety rather than a more highbrow cheddar, it was a tasty, creamy indulgence.
Vegans with a sweet tooth will be happy to know that Southern Nosh typically offers at least two vegan desserts every day. On our visits, these included strawberry rhubarb pie, apple pie, and a vegan brownie. For Southern traditionalists, there was also a sweet potato pie that did contain dairy but was vegetarian. Desserts change daily, although the brownie seemed to be a constant item.
The restaurant is small, seating just 22, and the atmosphere is such that we're guessing the majority of business will be of the carryout variety — the bright lights and strip mall parking lot view don't contribute to an ambience where one is inclined to linger. Another reason we were in and out in under an hour was the fact that the restaurant doesn't have a liquor license. If you do choose to dine in though, it's worth noting that service is unfailingly polite, and feels more polished than a typical diner experience.
Noelle Lothamer dines for Metro Times. Send comments to [email protected]