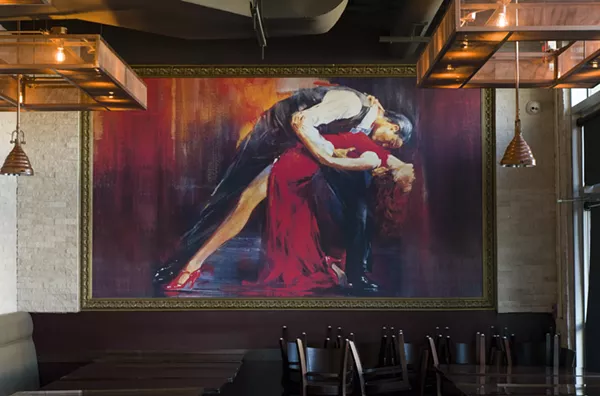 For all the new diversity in Detroit's dining scene, the flavors of South America aren't very well represented. The bright, acidic bass
ceviche
of Chile; the Japanese prints on the Peruvians' approach to fish; and the beguiling steak like those charred in Buenos Aries's smokey
parrilla
s are notably absent.
That changes on Nov. 30 when Bolero Latin Cuisine Tour – a new Midtown restaurant trading in the flavors of Peru, Argentina, Chile, and other Latin American nations – hosts a soft opening in the former Mid City Grill space on Forest Avenue near Woodward.
Owners Vicente Vazquez, Roberto Caceres, and general manager Robert Caceres — who own/run downtown's Vicente's Cuban Cuisine — are planning to follow that up with a grand opening six course wine dinner on Dec. 2 (during Noel Night), and the restaurant fully opens to the public on Dec. 4.
Their new menu at Bolero centers around seafood, though the Caceres' tapas and entrees also hold beef, poultry, and vegetarian options.
The natives of Viña del Mar, Chile are particularly pleased to offer dishes from the continent's Pacific Coast, like Peruvian
pescado sudado
. The name literally translates to "sweating fish", and consists of a branzino (bass) filet mixed with calamari, mussels, and shrimp. It's served in a tomato broth driven by ginger, cilantro, and the Peruvian
aji amarillo,
a light, yellow,
chile pepper ubiquitous in the nation's dishes.
"With seafood, you can get much more creative," Roberto Caceres says of his preference for working with fish, and the Caceres are also proud of their
ceviche
menu. Bolero's versions aren' liket the
ceviche
cocktails made with imitation crabmeat that are common in Detroit. Instead the Caceres will cure fresh calamari, octopus, fish, and shrimp in lime and citrus juices with fresh cilantro, corn, spices, and peppers.
Though the focus is Latin American cuisine,
paella –
a Spanish dish – represents one detour. And while saffron typically provides the dish with its yellow color, the Caceres make a black paella,
paella tinta,
that's tinted with calamari ink.
"It's a very interesting dish — a delicacy," Roberto Caceres says, noting that it's one of several varieties Bolero will offer.
Among the highlights in the tapas selection are the
empanada de pato
(shredded duck empanada with garlic
sofrito
) and the
papas a la huancaina
potato dish with mild peppers, black olives, fresh cheese, and hard boiled egg that's laced with
huancaina
, a creamy sauce made from mild yellow
chile
peppers.
In Bolero's bar, Robert Caceres says to expect plenty of good Argentine and Chilean wines, Peruvian pisco, the same signature mojito as Vicente's, and the same sangria recipe. The interior is modern, and Roberto Caceres says the lights will be kept dim to offer a "sexy" vibe.
"If you bring your Tinder date here, you'll be going home with them," he says.
The restaurant will be open Monday through Thursday from 11 a.m. to 10 p.m.; Friday and Saturday from 11 a.m. to 11 p.m.; and Sunday from noon to 9 p.m.
The wine selection for the Dec. 2 grand opening six course wine dinner is as follows:
First course: Miguel Torres Estelado Brut Rose, Chile.

Second course: 2016 Terrazas de los Andes Torrontes Reserva, Salta.

Third course: 2016 Torres Pazo das Bruxas Albarino, Rias Baixa.

Fourth course:2013 Bodega Chacra Barda Pinot Noir, Patagonia.

Fifth course: 2012 Pulenta Estate Gran Corte Vll, Lujan de Cuyo.

Sixth course: End the night with a glass of the house blend Sangria.

The food menu for the party is as follows:


First: Bisque de Langosta - Silky smooth Maine lobster bisque. Served with lobster meat skewers and garlic toast.
Second: Tiradito - Refreshing thinly sliced of fresh fish. Lightly marinated in citrus juice and a touch of passion fruit. Topped with diced Peruvian peppers.

Third: Paella Bolero - Shrimp, calamari, fish, lobster, clams, chicken, chorizo, vegetables and saffron rice.

Sorbet Intermezzo
Fourth: Empanada de Pato - Shredded duck empanadas made with peppers, onions, garlic sofrito. Served with spicy rocoto sauce
.
Fifth: Entrana de Novillo - Grilled Argentinean style skirt steak. Served with chimichurri sauce, potatoes and vegetables of the day.
Sixth: Pio Nono - Sponge cake brushed with rum syrups. Rolled with dulce de leche and pecans. Served with ice cream.


Tickets to the 7 p.m. grand opening night wine dinner are $90 plus tax and gratuity and are available by emailing [email protected].

Find more info here.