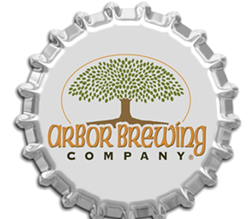 A deal is in the works for the owners of the Neapolitan-style pizza company Bigalora to buy the Arbor Brewing Company's entire US operation.
The latter runs the ABC BrewPub in Ann Arbor, the ABC Microbrewery (formerly The Corner Brewery) in Ypsilanti, and distributes statewide. It also has a small stake in a brewery in Bangalore, India, but that doesn't appear to be part of the sale.
A Bigalora spokesman said the deal isn't finalized, though an announcement is planned for later this week. He stressed that it doesn't involve the Livonia-based Bigalora company, but its owners "who own a number of other brands/companies across multiple industries, [and] will also soon own ABC." He declined to comment further until the announcement is ready, and it isn't clear whether ABC owners Matt and Rene Greff are selling all of the company, or a controlling stake.
The Greff's motivations for selling also aren't known, and Rene Greff couldn't be reached immediately for comment.
In February 2015,
we wrote about the multilevel controversy
over ABC's decision to launch a crowdfunding campaign to raise $75,000 for a build out of the Microbrewery's kitchen. Customers and others in the Ypsilanti business community took issue with the Greffs asking for money while they documented their world travels on social media. In one picture posted to Twitter during the campaign, the couple toasted bloody Marys from first class seats at the start of a trip that they wrote would take them to Miami, Barbados, India, Belgium, Italy, and Poland.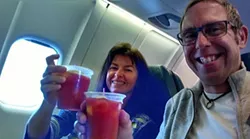 As part of that story, several current and former employees expressed frustration with poor working conditions, pay that was below living wage, and pressure from ownership to ask friends and family to donate to the crowdfunding campaign.
Several of the brewery's investors also spoke with
Metro Times
about issues. They said they put up $10,000 to $15,000 cash to get the brewery off the ground in 2003, and disbursements were to start in 2006. Though investors were to receive three-and-a-half times the initial investment by 2016, they hadn't received a check despite the fact that the popular brewery appeared successful. Reports showed ABC grossed $1.7 million in 2013 between the nearly 20-year-old ABC BrewPub and the then-8-year-old ABC Microbrewery.
Investors also said at the time that the Greffs didn't regularly communicate with them. It's not clear if investors will be repaid, and several declined to comment for this story.
At the time, the Greffs defended their practices and said they still hadn't drawn a check from the then-11-year-old business, so they couldn't pay back investors. They also claimed that an expansion of the company's distribution operation tied up their money. Those claims were met with accusations of creative accounting from some involved with the business. In response to employees' charges, Rene Greff pointed out that the investment contract included an exit clause. Other staffers said there were no issues with the working conditions or pay, and the Greffs denied pressuring their employees to contribute to the campaign, which met its $75,000 goal.
The brewery is a popular community spot in Ypsilanti and the previous story elicited
a strong response
from people on both sides of the issue. However, after it ran, members of the ABC Microbrewery kitchen staff reported receiving a $1 per hour raise.
Bigalora's ownership has been successful with that company and opened multiple new locations in recent years. Last year,
Crain's
reported that Bigalora's same store sales were up 15 percent in 2016 compared to 2015, and in 2015 same-store sales increased by 10 percent compared to 2014.
Stay tuned for more details.