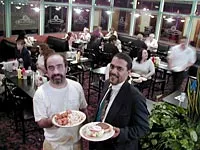 The traditional immigrants-in-America story was immortalized on "Saturday Night Live," when John Belushi barked "cheeseburger, cheeseburger."
It's fitting, somehow, that this most American of institutions, the diner, should now be the toehold of our most recent residents. So it is with the Motown Cafe Grille on Cadillac Square, which is owned by the Tinaj family from Albania. Your waitress will have a most charming accent, and if she spells turkey "tyrki," so what?
The Grille calls itself, with some justification, not a diner but "a family restaurant." For a few months now downtowners have been noticing the snazzy new sign on the Cadillac Square Apartments building: a clock face that promises "Good Food" and "Good Time."
Still, I had some trouble convincing experienced urbanites to accompany me there. "There've been lots of different restaurants in that spot over the years," said one attorney friend. "And none of them have been any good." She cited a Coney Island, a Blimpie's, a diner and, long ago, a Middle-Eastern restaurant.
In its present incarnation, the spot has a quintessentially American – that is to say, melting pot – menu. It includes veal Parmesan, tuna plate, lasagna, meat loaf, fish and chips, vegetarian stir-fry, BLTs, chopped sirloin dinner, chili fries, omelets, chef's salad, Coneys: You could recite the menu yourself. It's not the kind to elate the jaded restaurant reviewer, but it's what many, many people expect when they eat out.
I've developed a categorization for this archetypal food, which grades it not on excitement but on how well it stacks up against other restaurants that serve exactly the same thing. Motown Cafe Grille is at the high end. That's because the food actually tastes good, or good enough.
My chicken Parmesan was spicy and the tomato sauce not bad (though it was much less tasty on the spaghetti side dish). Broccoli soup was creamy, with crunchy flowerets.
Pancakes are fluffy and crisp on the edges, the way they should be, though I would forgo the blueberry sauce next time. They come with melted butter in a little metal pitcher, a nice touch. (Ditto for real half-and-half instead of "vegetable nondairy noncreamer," or whatever they're calling it these days.)
Hash browns – a chief indicator on the diner index – appear to be shredded by hand. They would have scored higher marks if they'd been hand-cut cubes, lower had they been the factory-shredded frozen kind. They need to be crisper.
The Coney is another touchstone, and Motown's is, well, unobjectionable. Every city has its own version of "all-American" cuisine, and downtown Detroit's includes some elements of Greece. (Check your atlas for proximity to Albania.)
Greek salad is now thoroughly part of the melting pot cuisine, of course, so I don't know if it counts as foreign flair. Probably not, because at Motown it comes with a long list of dressing choices, only one of which is "Greek." But Motown serves its salads with a nice, thick pita, and sandwiches can be served on pita too, including both lamb and chicken gyro with the usual yogurt sauce.
The grilled turkey on pita is good; the grilling really helps. There's a Greek omelet with gyro meat and feta that's quite savory. And feta comes as a side dish.
The Tinajes are apparently doing well enough to expand; their first location is at 3242 E. Jefferson (between Mt. Elliot and Gallagher), with the same menu. Welcome, and keep up the good work.
No desserts, no credit cards.
Jane Slaughter dines for Metro Times. Send comments to [email protected].