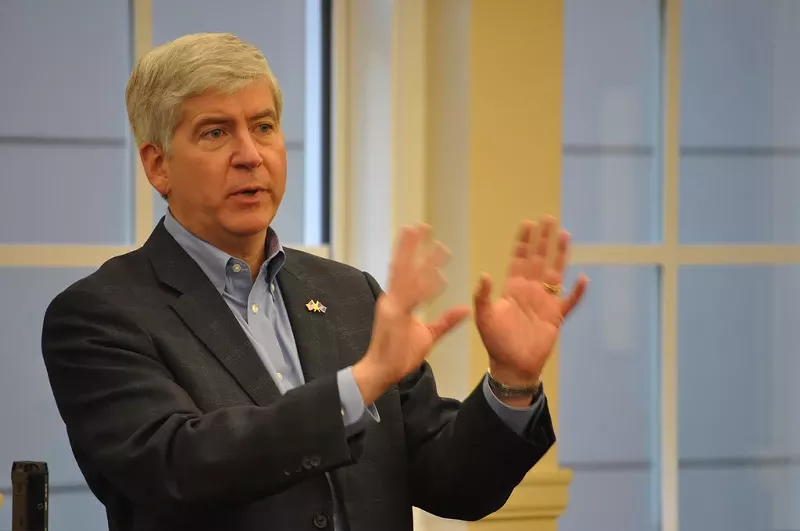 Gov. Rick Snyder on Friday afternoon signed into law bills that
gut the $12 per hour minimum wage and paid sick time laws
.
The minimum wage law would have increased the state's meager $9.25 per hour minimum wage to $12 per hour by 2022, and included a $12 per hour minimum for tipped employees. The Republican-led changes slow the increase to $12.05 per hour by 2030, and cap the increase for tipped workers at $4.58 per hour.
Adjusted for inflation, the new minimum wage increase could end up being a pay cut for the state's lowest earners.
The paid sick time law would require employers to provide 72 hours of sick time annually, or nine days, while allowing one hour of sick time accrual for every 30 hours worked. The Republican amendment would reduce the number of sick days to four and exempts businesses with fewer than 50 employees, which represent about 1 million of the state's roughly 4.2 million workers. It would also require employees to work 40 hours to earn one hour of medical leave.
What makes the changes extra dirty is the manner in which Republicans are going about it. Throughout 2018, citizen-led groups gathered signatures to put proposals for paid sick time and increased minimum wage on the Nov. 6 ballot.
The proposals are popular with state's residents and were likely to pass. But Republicans made them law in September, which kept them off the Nov. 6 ballot. However, the GOP made sure that the laws didn't go into effect until March so they could gut them during the lame duck session.
There's nothing that the Democratic minority in the state legislature can do to stop Republicans, but the move may violate the state's constitution. Ultimately, the changes could be overturned by a court should a lawsuit be filed.
The citizen-led group that initiated the paid sick time law
announced
it would resubmit ballot language to restore the original law. If approved, it could go in front of voters in 2020.
Stay on top of Detroit news and views. Sign up for our weekly issue newsletter delivered each Wednesday.