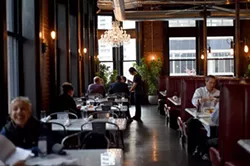 There's been a lot of buzz lately about the opening of The Peterboro in Detroit's old Chinatown. Well, come Nov. 8, foodies will get a chance to try out the menu at a sneak peek event at one of Peterboro partners' Dave Kwiatkowski and Marc Djozlija's other spots, Wright & Company. Chef de Cuisine Brion Wong will serve up seven dishes from his upcoming menu, which he's told us is Asian inflected. Hint, one of the seven items gives props to Detroit's one-of-a-kind Chinese American dish, almond chicken (unknown if his rendition with include the Boneless in ABC).
Other menu items include: Scallop Crudo, with Ponzu, Broad Bean Paste, Sesame (amuse bouche); Crab Rangoon; and Mom's Ribs, with a Hoisin Glaze. A few more notes on the event: beverage pairings will be available, as will there be a full bar. Parties should purchase tickets, which run $46 each and are only sold online, all at the same time.
This popup is just one of many that Wong has been in on since he exited from Antietam. We've sampled some of the cuisine and have to say it's a welcomed edition to the dining scene, both in its originality, but also in its attention to detail in Asian culinary traditions. We can't wait to see what he does to the ABC.