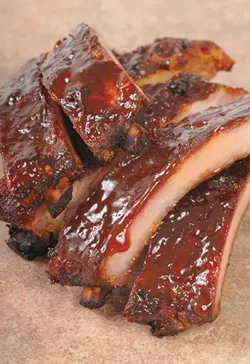 Bad Brad's BBQ 35611 Green St., New Baltimore; 586-716-9977; badbradsbbq.net: A relatively recent entry into metro Detroit's barbecue category, Bad Brad's motto is "From our smoker to your plate," summing up their intention to give diners the best barbecue possible. They start every day at 5 a.m., cooking beef brisket and pork shoulder in fruit wood and hickory smoke as long as 14 hours. Get a taste of the meat in one of their many cleverly named sandwiches (all $8.50) or choose among sliced or chopped brisket, pulled pork or chicken, or pork sausage. You can also go "whole hog" with a half ($15) or a full ($24.50) slab of St. Louis-style ribs. Also, the clever wall illustrations by Detroit artist Jerome Ferretti don't hurt either.
Bert's Marketplace 2727 Russell St., Detroit; 313-567-2030: On summer Saturdays, Eastern Market seems to be bursting at every seam. Stalls and sheds overflow with colorful produce as merchants set up shop along Russell Street. And Bert's is not only a great place to sit and do some Eastern Market people-watching — you can also enjoy some serious barbecue. (You also get a front seat to some of the most unusual karaoke performances ever!) In keeping with Bert's bare-bones, working-class atmosphere, their food is more down-home than much of the soul food you find in restaurants, which has often been upgraded from its humble origins. The menu runs from catfish to 'cue, and on warm market days when the grillmasters are in full view outside, you'll be able to see before you buy!
Blue Tractor 207 E. Washington St., Ann Arbor; 734-222-4095; bluetractor.net: Looking the part is important for any restaurant, and Blue Tractor does it well. Decorated in wood and rough metalwork, it exudes the feel of a big, rustic barn, ideally suited for serving up barbecue to 100 close friends. A long bar stretches across one wall, the establishment's house-brewed beers listed next to its respectable bourbon selection. Their Bumper Crop IPA isn't burdened with too much hoppiness and will wash down a plate of ribs pretty damn well. The menu is full of down-home fixings, and inventive specials year-round keep switching it up. And the barbecue? It's mostly slow-cooked proteins that get a douse of rub or sauce during final grilling, and includes baby-back ribs, Carolina pulled pork, barbecue "beer can" chicken, and even some more interesting-sounding choices, such as bacon-wrapped meatloaf, apricot-mustard turkey and smoked barbecue duck. The spare ribs stand out for being extraordinarily moist. On the side dish front, Blue Tractor's baked beans will take many diners back to childhood: Nicely spiced and a bit sweet, they taste just like the beans served at family picnics and dinners across southeast Michigan every summer. Newly expanded.
Bo's Smokehouse 51 N. Saginaw St., Pontiac; 248-338-6200; With three separate levels occupying almost 12,000 square feet, Bo's Brewery & Bistro offers patrons full bar service, billiards and more. As many as 40 people can sit at the bar and enjoy such Michigan craft beers as Bell's and King's, followed by special desserts every week. And over the last few years, they've upped their barbecue game, expanding their selections of smokehouse pork and beef. With six to eight microbrews made on the site at any given time, it's ideal to visit Bo's during happy hour.
Hoggers 2959 12 Mile Rd., Berkley; 248-548-2400; hoggersbbq.com; This little spot specializes mostly in carryout orders, but also has some space for folks to dine in. Enjoy an order of baby-back ribs, slow-roasted, grilled and basted in the joint's signature sauce, four pieces for $7.69, or as much as a full slab for $22.69. There's also barbecued chicken, shredded chicken and a wide variety of meaty sandwiches. Or get the "feast" of four meats and two large sides for $24.99.
Lazybones Smokehouse 27475 Groesbeck Hwy., Roseville; 586-775-7427; and 43203 Garfield Rd., Clinton Twp.; 586-247-7427; lazybonessmokehouse.net; Our readers say this is the best barbecue joint in Macomb County. Why? Because this east side spot has sandwiches starting around $8 and $18.99 for a slab of ribs. Lazybones boasts Black Angus beef, Grade-A fresh pork, and Amish country chickens, done broasted, pit-smoked or grill-ready for pick-up. And for those who want to throw a home party without running the grill, Lazybones has party pans big enough to hold 100 ribs or the equivalent in pulled pork — with the Super Bowl coming up, this is a good one to keep in mind. But note well — if you expect Lazybones ribs to be the sauce-soaked, fall-off-the-bone sort that rules in Detroit and southeastern Michigan, you may be disappointed. But free your mind — these are the dry-rubbed, mopped and slow-smoked ribs that give ol' boys fits down yonder, and there's no good reason to restrict yourself to one style of barbecue.
Lockhart's BBQ 202 E. Third St., Royal Oak; 248-584-4227; lockhartsbbq.com: Lockhart's, named after a town reputed to be the barbecue capital of Texas, is a handsomely retrofitted space on the high-ceilinged first floor of an old bank building. The stainless-steel open kitchen turns out reasonably priced, hefty portions. The main courses, served authentically on paper in metal trays and with a white bread sopper, involve brisket, ribs, pulled pork, sausage, chicken and ham — and combinations thereof — all smoked ever so slowly over local white oak and hickory. One can sample most of the meats in the "special" combo of brisket, 1/4 rack of ribs, sausage and pulled pork. Or if that mix is intimidating, a half-chicken and ribs or brisket and pulled pork are less daunting combos. The full bar has a selection of Michigan beers, perfect with the 'cue. Aside from the renditions of smoked meats, Lockhart's serves sandwiches, fried catfish, smoked salmon and smoked chicken salad.
Noble Pig Café 19222 Mack Ave., Grosse Pointe Farms; 313-640-4115; noblepigcafe.com; Brandon and Parinda Kahlich's well-named new barbecue joint has a lot going for it already, and chef Brandon concocts sauces that do the meat proud. The pork options are ribs, pulled pork, andouille and a Triple Q sandwich made of ham, pulled pork and bacon or sausage, not overpriced at $9.25. Chicken comes as a half or whole bird, or wings. Beef short ribs, Scottish salmon, crab cakes, tuna salad and turkey BLT sandwiches, and a brisket-and-sirloin burger round out the meat offerings. The baby-back ribs were my favorites among this porcine largesse, improbably tender and imbued with such a myriad of rich flavors they hardly need saucing. Kahlich serves his sauces the right way, on the table, but will mop the meat with sauce in the oven if customers insist. All the meats are smoked over apple and hickory, the pulled pork for 16 hours, the ribs for eight. Noble Pig also serves nine ambitious pizzas plus build-your-own. Mainly carryout, no alcohol.
Nunn's Barbecue Restaurant 19196 Conant St., Detroit; 313-893-7210; Another one of Detroit's old-line barbecue joints, Nunn's (or, Nunn's II as it's called; the first Nunn's burned down) churns out a steady diet of pit-style ribs cooked to perfection, all ready for your carry-out order. No sit-down here, but the ribs are supreme — one rib aficionado we know says they're the best ribs on the east side. We also recommend the Kenta Cake, a unique specialty at Nunn's.
Special thanks to our editorial interns Paul Stanczak and Sydnee Thompson for their assistance fact-checking and compiling this column
See any errors or omissions? Let us know! Call 313-202-8043 or e-mail [email protected].