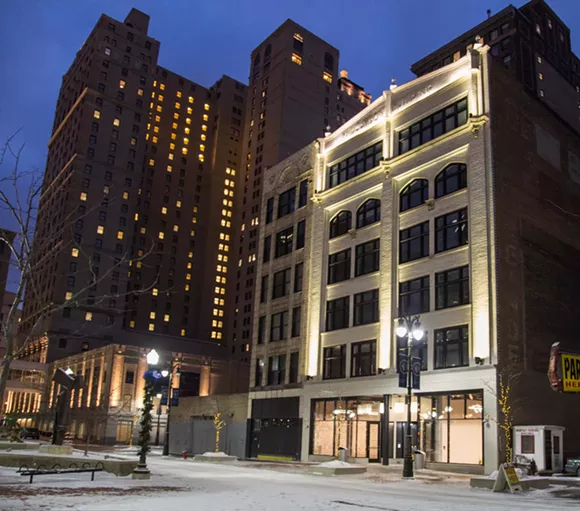 We've been saying that what's lacking in downtown living is variety in terms of grocery options. A number of high-rise apartment buildings house convenience stores on the ground level, for basics like snacks, pop, and a limited number of grocery staples.
But most have that party store vibe, where essential food stuffs are low on the totem pole (save for City Market Detroit in Bricktown - we don't know how that tiny space manages to cram such variety inside).
Looks like a new shop coming to Capitol Park this spring is seeking to change that, at least in a small way.
Eater Detroit says
that Eatóri Market is planning its debut in the Malcomson Building sometime this spring.
On top of selling "specialty" groceries, the 2,500-square-foot space will feature a full bar and a selection of hot prepared meals to-go.
Says co-partner Zak Yatim to Eater: "Eatóri Market came from a love of food but also what I think is missing in the city of Detroit. There are a lot of great restaurants opening around the city but some of us can't go out to eat every night of the week."
Cheers to that sentiment.
Indeed, downtown has seen an influx of new mid-range and high-end bars and restaurants to accommodate the increase in office workers and city dwellers, but not really anything for practical day-to-day shopping (c'mon, residents need more places to shop for milk and bread, not $80 cocktails).
From what Yatim tells Eater, part of his goal is to make items affordable. We'll want to keep on eye on that to see if he keeps to that noble objective (and also to see what he considers affordable. After all, these smaller markets are known for jacking up their prices).
The Malcomson Building is at 1215 Griswold St.
See also:
Introducing the $80 cocktail at the upcoming Bad Luck Bar in Capitol Park