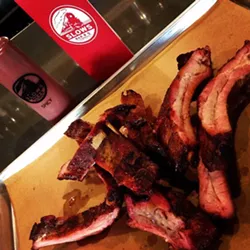 Slows Bar-B-Q's pursuit of statewide BBQ domination continues as the spot that put Corktown on the dining map made its debut in Grand Rapids this week.
The western Michigan location opened its doors Thursday at the Grand Rapids Downtown Market. While the menu is similar to the Detroit location, customers at the GR spot are supposed to place orders through a window before seating themselves. This opening represents founder Phil Cooley's foray into statewide expansion. Later this year another location will open at Strand Theatre in Pontiac.
This newest eatery in Grand Rapids further solidifies the western Michigan city's reputation as a foodie destination. It's already home to a number of respected breweries, including Founder's Brewing Co., Brewery Vivant and HopCat - which has expanded to Detroit and Ann Arbor.