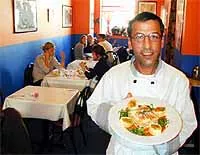 At lunchtime at L.A. Express last week, light streamed through the storefront windows. The orange café curtains seemed ablaze. The walls echoed the colors of the curtains, the sun and the sky with three horizontal stripes of orange, yellow and blue.
The tiny kitchen is carved out of the tiny dining room, and chef Michael Chamas seemed omnipresent in the pass-through window.
Lunch began with a cup of lemon rice chicken soup, an old standby in Mediterranean restaurants, but this was special. Thick, tangy soup was topped with a round of garlicky toast and garnished with fresh parsley and basil. It was a good beginning, and those pleasing flavors of garlic, basil and lemon were often repeated in the dishes I tried.
We ordered exactly what the people sitting next to us were eating, and recommended: A "philly bello" sandwich and shrimp burger. Salad comes with the order, but it was heavy and soggy. A choice of rice or oven-fried potatoes also comes with. Rice seemed odd with a sandwich, but the potatoes were yummy, dotted with browned herbs.
The shrimp burger was fun – a patty of chopped shrimp and vegetables served on a pitalike bun. The philly bello comes on a baguette with thick slices of portobello mushrooms and roasted red peppers.
That Friday night, I enthusiastically invited some friends to join me, but it did not go as well. Our arrival at 8:15, in a party of six, seemed to bother the management. The restaurant closes at 9.
The waitstaff insisted we split up even though a large table was vacated before we had taken off our coats.
Pressuring my friend Ken to order, the waiter said, "It's 8:30, the kitchen is about to close."
"It's 8:20," said Ken, pointing to his watch. ("Time is a verifiable fact," Ken explained as he recounted the dialogue.)
After pouring our wine, our hapless waiter authorized us to gather up our stuff and move to the larger table. Unfortunately, an episode like this can color the entire evening.
"What a grumpy place," said one in our group. Somehow, the food took on the atmosphere.
Perhaps the little touches were omitted that had made lunch so special. California pizza ($7 at lunch, $11 for dinner) was tasty with roasted garlic, fresh basil, goat cheese and mozzarella, but it didn't even fill a dinner plate. Too skimpy for supper.
Pasta aioli is a vegetarian entrée of penne noodles with sautéed mushrooms and red peppers united by the flavors of garlic, basil and olive oil.
This was good, but the best dish at our table was "Tom's chicken scallopini," which is served with a risotto richly flavored with lemon-garlic sauce.
L.A. Express does not have a liquor license, but you can bring your own. This suited me; we enjoyed good wine without the restaurant prices.
Desserts were the highlight. Ken (he of the watch, who asked to be described as "my witty friend Ken") announced that the caramel-apple pie will be served in heaven. A luscious, buttery crust under a layer of cheesecake, under a layer of apples, under a layer of caramel, topped with airy pastry croutons. I hope I don't have to wait until I'm dead to try that again.