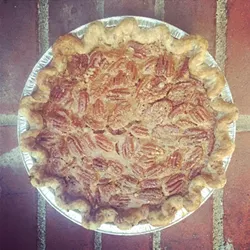 What's Thanksgiving without pie?
Nothing. Thanksgiving is nothing without pie.
And there is perhaps nothing worse than serving half-burnt pumpkin pie made from canned puree and a pre-made crust. Seriously, it's enough to ruin the entire holiday. But, that's not to strike fear in the hearts of all those who volunteered to bring dessert to the familial celebration of the most gluttonous holiday in America.

Sister Pie, a little lady-run bakery on the east side of Detroit, doesn't want you to serve that horrible excuse for pie either. See, they specialize in making both sweet and savory versions of the confection and have upped their game for the holiday.

According to bakery owner Lisa Ludwinski, Sister Pie is offering Salted Maple Pumpkin, Brandy Pecan, Cranberry Crumble, Sweet Potato Marshmallow, and Apple Cheddar Rye. To make things easier for you, you can pre-order your fave pie online. If you'd rather try all five varieties before settling on one, they'll be available by the slice at the bakery starting November 10. Ordering closes on November 20 at noon and all pies must be picked up between November 24 and 26.