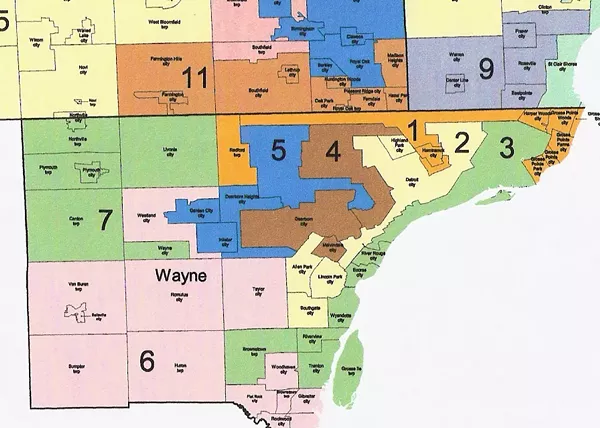 Voters Not Politicians is
working to gather 316,000 signatures
needed to put a proposal on the November 2018 ballot that the group says will end gerrymandering of electoral districts,
if it's approved
.
The non-partisan, non-profit group is proposing amending Michigan's state constitution to establish a 13-member citizens' commission made up of five independent voters and four each from the two major parties.
It has 180 days from Aug. 17 to collect the signatures, and well-attended festival and holiday weekend events are excellent places to gather large numbers of them in a short time.
According to Voter Not Politicians' website, the group will have volunteers at the following locations.
Check the website for times, maps, and other details.
To volunteer check
this site
for details.
Sept. 1


Royal Oak – Arts, Beats & Eats
Detroit – Detroit Jazz Festival
Ann Arbor – Dixboro Farmers Market
Ann Arbor – First Fridays in Kerrytown
Novi – Michigan State Fair
Grand Rapids – Fulton Street Farmers' Market
Grand Rapids – Avenue for the Arts
Corunna – McCurdy Festival
Saline – Saline Community Fair
Jackson – Grand River Farmers Market
Battle Creek – Battle Creek Books
Chelsea – The New Chelsea Market
Saginaw – Saginaw Farmers Market
Kalamazoo - Lunchtime Live
Grand Blanc – Grand Blanc Food Truck Festival
Ypsilanti – Ypsilanti Festival of the Honeybee
Northville – Northville First Fridays
Marquette – Marquette Area Blues Fest
Sept. 2
Detroit – Detroit Jazz Festival
Royal Oak – Arts, Beats & Eats
Ann Arbor – Zingerman's Deli
Ann Arbor – Ann Arbor Dog-O-Mat
Ann Arbor – Ann Arbor Kerrytown Farmers Market
Kalamazoo – Kalamazoo Farmers Market
Meridian – Meridian Farmers Market
Rockford – Rockford Farmers Market
Holland – Holland Farmers Market
Jackson – Grand River Farmers Market
Port Austin – Port Austin Farmers Market
Owosso – Owosso Farmers Market
Lapeer – Lapeer Farmers Market
Muskegon – Muskegon Farmers Market
Chelsea – The New Chelsea Market
Novi – Michigan State Fair
Battle Creek – Battle Creek Books
Saginaw – Saginaw Farmers Market
Lexington – Thumbfest
Monroe – River Raisin Labor Day Parade
Saline – Saline Community Fair
Durand – End of Summer Cruisin'
Monroe – River Raisin Barbecue Festival
Marquette – Marquette Area Blues Fest
Sept. 3
Detroit –Detroit Jazz Festival
Hamtramck - Hamtramck Labor Day Festival
Ann Arbor – Dancing in the Streets
Ann Arbor – Ann Arbor Dog-O-Mat
Novi – Michigan State Fair
Chelsea – The New Chelsea Market
Royal Oak – Arts, Beats & Eats
Marquette – Marquette Area Blues Fest
Saline – Saline Community Fair
Williamston- Williamston Farmers Market
Portage - Portage Farmers Market
Sept. 4
Detroit - Detroit Jazz Festival
Detroit - Detroit Labor Day Parade
Hamtramck – Hamtramck Labor Day Festival
Holland - Holland Labor Day Pancake Festival
Holland - Labor Day BoardWalk
Zeeland - Labor Day Truck Parade
Holland - Labor Day Truck Parade
Battle Creek - Battle Creek Books
Novi - Michigan State Fair
Royal Oak - Arts, Beats & Eats
Chelsea - The New Chelsea Market
Mackinac Bridge Walk (Mackinaw City)
Mackinac Bridge Walk (St. Ignace)
Plainwell – Island City Bridge Walk
Big Rapids - Big Rapids Arts & Crafts Fair
Grand Rapids – Grand Rapids Labor Fest
Grand Rapids – Grand Rapids Community Bridge Walk
Owosso – Owosso Labor Day Bridge Walk