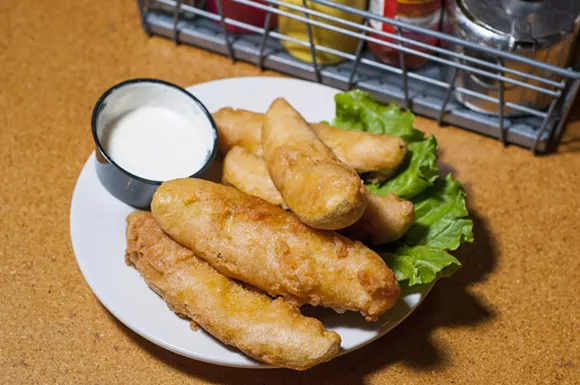 Fried pickles are one of those bar food dishes that, on the face of it, seems so foolproof. Take a pickle, batter it up, drop it in the deep fryer, and in a moment you get a salt, garlic, and vinegar bomb inside a crunchy shell. Impossible to do wrong, right?
Well, not exactly. As Sidetrack in Ypsilanti shows us with its beer battered fried pickles, a dish for which the bar/grill is famous, putting a little thought into the batter goes a long way. Instead of the standard issue, dark, heavy-fried pickles one typically encounters at the bar, Sidetrack encases its spears in a batter that's light and fluffy in texture but also crisp. That's a delicate balancing act, one partly achieved with a corn starch and flour combo that helps prevent the batter from becoming tough, and partly a result of an IPA infusion.
Can't make it to Sidetrack this evening? Want to impress everyone with your knowledge of properly prepared fried pickles? Co-owner Jessica French was kind enough to show us how Sidetrack fries up their spears.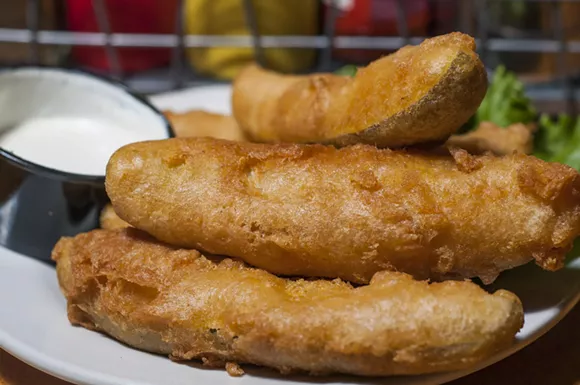 Ingredients:

2 quarts of vegetable oil for frying
1 large pickle, quartered into spears
1.5 cups cornmeal
1/4 cup flour
Fry mix (like Dixie Fry)
Fresh IPA
More beer
*Fresh beer is important as carbonation is the key to a fluffy, golden brown fried pickle.
Preparation:
1. Heat the oil to 365 degrees in a deep fryer or heavy, deep skillet.
2. Dip the pickle spears in beer.
3. Pour the cornmeal and flour into a shallow pan and add a few splashes of beer to moisten the mixture. Mix it well.
4. Add pickles to the mix and tumble gently. Make sure to get an even coating.
5. Dip the coated pickles in the hot oil. Fry until they're golden brown and slightly crisp, then drain them on paper towels.
6. Drink the remaining beer!