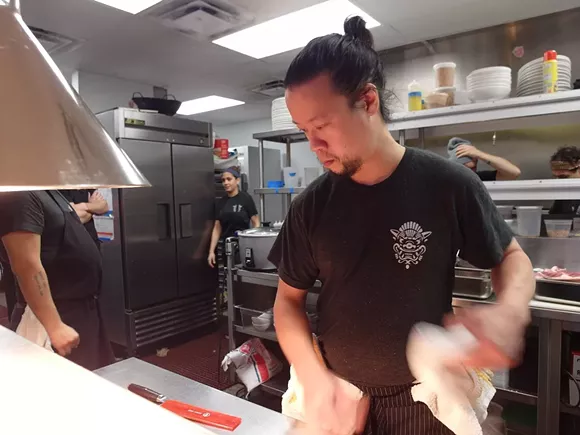 Soon after The Peteroboro opened its doors earlier this year, we had to ask its chef de cuisine when he ever found time to sleep. To this, he replied that he had a cot set up in the back.
We never did check on that assertion but don't doubt his constant commitment to his kitchen.
From his "critically acclaimed" rendition of that Detroit-centric almond boneless chicken to his guilty pleasure cheeseburger spring rolls, to recreating his mom's roast pork, Wong has managed to draw from his Chinese-American roots to build a menu that's both playful and creative.
Wong comes to us from NYC, where he honed his craft in a number of Chinese eateries before making his way to Detroit. Since his arrival, his work has been nearly non-stop: first, as executive chef at the lauded Antietam in Eastern Market, a series of pop-ups, and eventually helping to open The Peterboro in Detroit's old Chinatown.
It was his experience in New York, along with influences from his own upbringing, that led him to his current kitchen, which is run by the Detroit Optimist Society (which also operates Wright & Company, Sugar House, Café 78/Super Happy Sushi, and Honest ? John's).
Aside from some of the spot's staples, you're in for something different just about every time you visit The Peterboro (a recent special of the day included a divine serving of kale and sausage).
We had to know more about what makes Wong tick. Between his daily shopping trips and prepping for dinner service, he took some time to answer our questions.
Metro Times: What is one thing people don't know about you that you wish they did?
Brion Wong: That I haven't been doing this for very long.
MT: What daily ritual is non-negotiable for you?
BW: I read the New York Daily news every day. It's a connection to home.
MT: If you could have any superpower, what would it be?
BW: Super speed. That way I could make sure everything was going right in the restaurant.
MT: What is the most positive thing in food or drink that you've noticed in Detroit over the past year?
BW: Creativity. Constantly changing menus and growth of ideas that reflect individual personalities.
MT: Who is your Detroit food crush?
BW: Alex Knezevic (of Vertical Detroit). Great chef, great cook, best foie gras plate I've had here.
MT: Who's the one person to watch right now in the Detroit dining scene?
BW: Brendon Edwards (most recently of Gold Cash Gold).
MT: Which ingredient is most representative of your personality?
BW: Ginger. Tough outer skin. Distinctive burning sensation when you eat it. Can also be made into candy.
MT: If you weren't working in the restaurant business, what would you be doing?
BW: Private contracting.
MT: Name an ingredient never allowed in your kitchen.
BW: Stinky Tofu. Can't handle the smell.
MT: What is your after-work hangout?
BW: Thomas Magee's Sporting House on Fisher.
MT: What's your food or beverage guilty pleasure?
BW: Shellfish. It's always so expensive. I can destroy a raw bar platter in seconds.
MT: What would be your last meal on earth?
BW: A Spanish style lobster paella. Keep in mind this changes all the time.
See also:
Side Dish: Meet the women behind The Farmer's Hand in Corktown
See also:
Side Dish: Chef Maxcel Hardy to return to his beloved Detroit