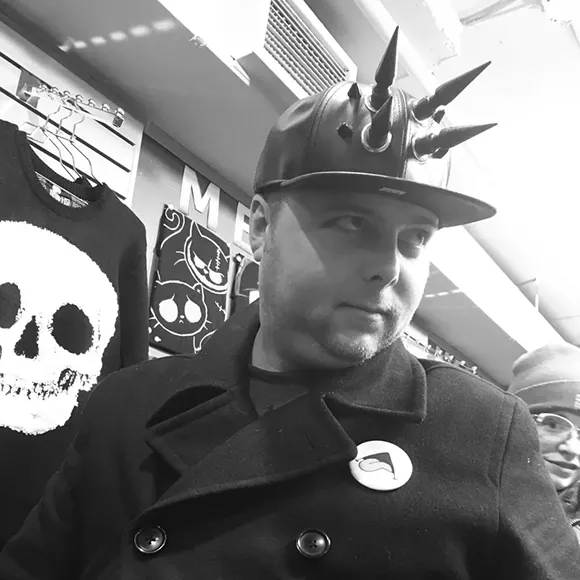 It didn't take long for Boboville brunch at Kelly's Bar in Hamtramck to blow up.
The day the brunch service commenced at the end of October, both old and new Hamtramck residents flocked to the bar, grateful for a chill dive that turns out chef-driven cuisine one would expect at a pricey and overcrowded brunch eatery. Dishes like the biscuits and gravy made with freshly-baked, fluffy biscuits and addictive sage sausage-infused gravy; a variety of vegetarian-friendly dishes (the recent "burrchada" — essentially a breakfast wet burrito — was sublime); and perfectly poached eggs are all becoming fast hits.
Behind the weekend service is Blair Wills, a versatile chef who's honed his craft at places like Pop's for Italian, Craft Work, and Teardrop Lounge in Portland, in addition to lending his musical talents in bands like Mexican Knives and Duane the Brand New Dog.
Wills' philosophy is to bring a simple, yet artfully executed brunch service to a city that until now has been lacking in the morning meal game, outside of the run-of-the-mill coney variety.
Here, we learn how the breakfast-focused chef with a punk rock attitude approaches his life in the kitchen.
Metro Times: What is one thing people don't know about you that you wish they did?
Blair Wills: That I'm into fashion, but I'm too fat for a runway. I have the most respect for design.
MT: If you could have any superpower, what would it be?
Wills: To freeze time for that extra 15 minutes you need right before open.
MT: What is the most positive thing in food or drink that you've noticed in Detroit over the past year?
Wills: I don't see negatives. The great ones stay and the cream rises to the top.
MT: Who is your Detroit food crush?
Wills: Dave Mancini. Supino is always great but to have two great places is totes sexy.
MT: Who's the one person to watch right now in the Detroit dining scene?
Wills: I like to keep my eye on the local haunts that have been here since the '60s. They have something that's hard to find.
MT: Which ingredient is most representative of your personality?
Wills: Deep Eddy grapefruit vodka. I've come up with some great ideas, drunk as fuck on that garbage.
MT: If you weren't working in the restaurant business, what would you be doing?
Wills: I would sell cars or do oil changes. My dad did it. I did it. It sucks. I fucking hate cars.
MT: Name an ingredient never allowed in your kitchen.
Wills: No instant sauce or batter — what the fuck? That's just lazy and tastes like shit. Unless it's Sander's fudge!
MT: What is your after-work hangout?
Wills: I like the Tap Room and Marshall's Bar on the east side but I always end up at Nancy Whiskey.
MT: What's your food or beverage guilty pleasure?
Wills: I have no shame: Guilty? No way. But creamed herring, I guess.
MT: What would be your last meal on earth?
Wills: Again, creamed herring with butterfly crackers and a salad with oil and vinegar.

See also:
Side Dish: Meet the 'world's best young pastry chef' right here in metro Detroit
See also:
Side Dish: The Peterboro's Brion Wong on super speed and ginger