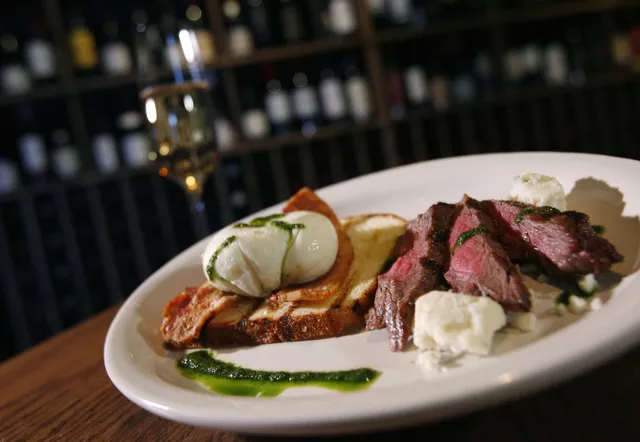 Cork Wine Pub
23810 Woodward Ave., Pleasant Ridge
248-544-2675
corkwinepub.com
Let wine flow freely — or at least cheaply — and people will come running. The early, explosive success of Cork Wine Pub proves as much. Opened just before Thanksgiving, the first-ever recipient of a liquor license in Pleasant Ridge is deceptively calm and commercial to passers-by on Woodward. But inside, it's warm smiles, interesting food and a boisterous atmosphere buoyed by dozens of wines by the glass — and even more by the bottle.
Decorated in an eclectic, contemporary kitsch, the atmosphere is welcoming but stylish. Walls are adorned with original abstract art, wooden barrel tops and reclaimed metalwork, including old, ornate air vents.
The metal ceiling and spacious but narrow dining area facilitate a loud, active, fun environment. Cork is, after all, a pub, and the long bar and even longer list of libations rises to that moniker. A second room offers lower-priced retail wines and provides spillover bar space for busy nights.
While the retail prices are perfectly fair, it's the restaurant's mark-ups that raise eyebrows: To wit, they're exceptionally low. Where else in metro Detroit can you find perfectly drinkable glass of Grenache for only $4? Beverage director Jeffrey Mar's selection prefers substance over namedropping: a handful of naturally-made cult favorites, a mix of Old World and New World wines, equal attention paid to whites and reds, and several upper-tier bottles genuinely worth the price.
One will need plenty of food to eat with all that wine, and Cork doesn't disappoint. The options are varied and wine-friendly: Very few dishes are too acidic, too spicy or too salty to pair well.
The menu's most robust section showcases about 18 small plates, which range from salads and bar snacks to sandwiches and bigger bites. Try the grilled cheese: With a thin layer of prosciutto and melted Gruyère, it's thoroughly delicious and bears little resemblance to the greasy mass-processed memories from many a childhood.
Several of Chef Bree Hoptman's other nibbles seem to be upscale twists on comforting dishes. The spicy, $5 fried chick peas and roasted almonds are each reminiscent of (but totally superior to) traditional bar snacks. She also features a plate of fairly classic knishes with potato filling and roasted potatoes with a chipotle dipping sauce in lieu of fries. And while many a Midwesterner has flaked off bits of smoked freshwater fish, far fewer have had smoked trout with fennel, served atop a homemade sesame cracker.
Hungrier diners without the stomach for a full meal can consider the Amherst Egg, a protein-rich small plate that's anything but small, featuring a poached egg, flank steak and bacon with blue cheese for $14.
Cheese lovers have plenty to enjoy as well: Spanish sheep's milk and St. Andre triple cream cheeses aren't often seen on other area menus, but they're presented here with several others as well as with delicious and thoughtful accoutrements, such as nuts and quince paste.
Entrées offer more significant portions but won't cause any temporary feelings of obesity and regret, nor will they empty your wallet. For $23, diners can enjoy duck breast cleverly laid atop thinly sliced zucchini rolled with quinoa and accompanied by curried crème fraiche and flavorful date chutney. Salmon and chicken dishes are available for even less, as is a plate of sliced, tender heritage pork served with a surprisingly delicate spaetzle and red cabbage.
The most expensive meal at $33 is literally meat and potatoes, though there's more than meets the eye to this plate. The fillet is cut from grass-fed beef, and the potato is a pleasant surprise, baked whole with a crunchy, salty topping and partially sliced as though it were fresh bread being prepared by a baker.
Cork's five desserts creatively satisfy the discerning sweet tooth. Their chocolate cake isn't served with berries or caramel sauce but rather a red wine reduction; an apple tarte Tatin is sidled up alongside a duo of whipped crème fraiche and delicious gingerbread sticks; and the type of cookies served are baked and selected, as the menu says, on the "pastry chef's whim."
An after-dinner drink is practically "a must" at Cork — that is, if one hasn't already partaken in a few cocktails. The menu offers five suggested cocktails, including classics and originals, but the list of available spirits rivals all but a handful of establishments in southeast Michigan, allowing for hundreds of possible combinations. Early 20th century cocktail books behind the bar are a sign of craftsmanship and dedication, as is the serious whiskey selection, including small-batch bourbons and Scotch but especially Irish whiskey.
Like any new restaurant, Cork isn't infallible — there's a chance that you might get an overly sweet Sazerac from a younger bartender or that a server might seem a bit overwhelmed on a busy Saturday — but there's no reason to think these minor aberrations won't be smoothed out quickly. After all, proprietor Nancy Crutchfield and other members of the management team are friendly, engaged and omnipresent, clearly committed to Cork's success and to their customers.
Ideally situated on Woodward, just off I-696, with smartly selected food and wine menus, Cork seems positioned, both geographically and metaphorically, to become a stalwart of the suburban dining scene.
Open 4 p.m.-10 p.m. Tuesday through Thursday, and 4 p.m.-midnight Friday and Saturday; closed Sundays and Mondays.