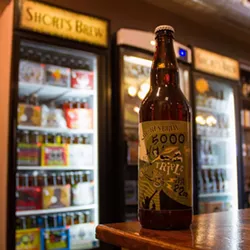 Short's Brewing Company has decided to drop its pledge to sell its craft beer only in Michigan and will soon start to distribute to the Chicago area and Pennsylvania.
The Chicago Tribune's beer guru Josh Noel reports
that the move is a response to an increasingly competitive craft beer market taking shape across the country.
The Bellaire-based brewery is now searching for distributors and Short's could hit Windy City bottle shops by mid-March, the Trib reports.
In a hand-written letter
posted
to the beer maker's website, founder and CEO Joe Short explains to fans the reasoning for the change. "In order to do what is right for our company and our community, we will begin to sell our beer outside the state of Michigan."
Short goes on to acknowledge that fans may have a hard time accepting the decision, the company is no less passionate about its beer. "The Short's brand is strong and will continue to supply Michigan and additional states throughout the U.S. with beer that is handcrafted by people who care in Northern Michigan."
The Mitten State's firm standing as a top craft beer destination is a strong source of pride for Michiganders, which explains Short's longtime slogan, "Michigan Only, Michigan Forever." While abandoning that stance could be viewed by some beer fans as selling out, the founder argues the demand is becoming too great to not branch out.
We personally, are of the mindset that beer is to be heartily enjoyed, not needlessly coveted or unobtainable. Next time we're in Chicago, we'll be sure to embrace the move and watch out for our favorite bottle of Soft Parade on the drink menu.