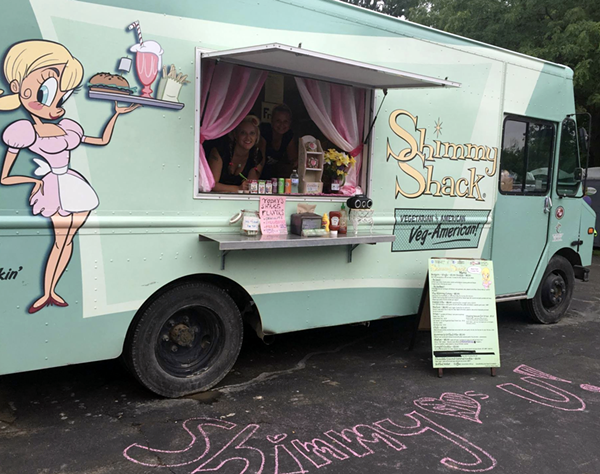 The Shimmy Shack is not only rebounding from an incident in which someone
vandalized its truck in South Lyon earlier this year,
but is now announcing plans for a brick-and-mortar restaurant to open in 2018.
The company made the announcement via press release and no more details are available at the moment. Shimmy Shack is metro Detroit's only 100 percent vegan and gluten-free food truck.
Its menu includes items like a coney dog smothered with black bean chili, mustard, and onions on a warm gluten free hot dog bun. It also offers burgers like the Southwest Burger, with a house-made black bean and rice patty that's topped with guacamole and salsa, and the Classic Burger – its version
of a fast food cheeseburger. The truck also serves up french fries, sweet potato fries, chili fries, and chili cheese fries with special sauces, as well as shakes that come in chocolate, pumpkin, strawberry, and cookie monster.
"Every time you eat at Shimmy Shack, you know you are being compassionate towards animals, nice to your body, and kind to the environment" says Shimmy Shack's owner, Debra Levantrosser, or "Shimmy Mama," as her followers call her.
Levantrosser is also announcing Shimmy Shack's "2018 Sassiest Vegans in Michigan" calendar. In a release, Levantrosser writes that "models in the calendar are, by design, not professional models, but rather female and male vegans from southeast Michigan."
Calendars are $18 and can be purchased at shimmyshack.com