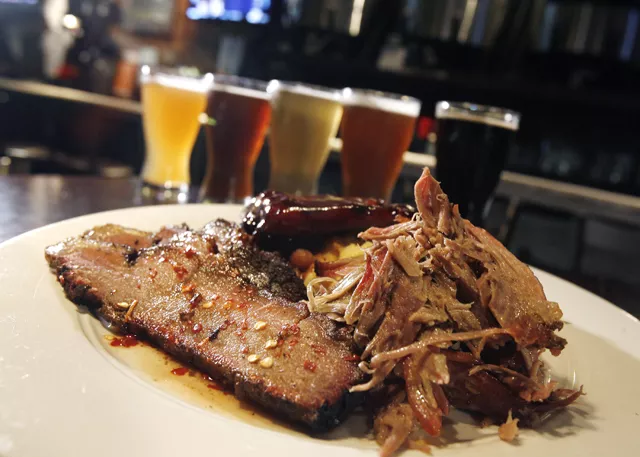 Blue Tractor
207 E. Washington St., Ann Arbor
734-222-4095
Barbecue has nearly universal appeal for meat lovers. From the first tender bite to the last lick of one's own fingers, all washed down with a frosty pint, it leaves every comfort food craving satisfied. Part brewpub and part barbecue joint, Blue Tractor brings exactly that experience to downtown Ann Arbor.
Looking the part is important for any restaurant, and Blue Tractor does it well. Decorated in wood and rough metalwork, it exudes the feel of a big, rustic barn, ideally suited for serving up barbecue to 100 close friends. A long bar stretches across one wall, the establishment's house-brewed beers listed next to its respectable bourbon selection.
Unsurprisingly, it appears most folks begin with beer. None stands out as a "must try," and, as with plenty of brewpubs, the idea is more appealing than the final product. That said, their Bumper Crop IPA isn't burdened with too much hoppiness and will wash down a plate of ribs pretty damn well.
Sampler flights are available for their standard taps, which tend to include the IPA, stout, bock, pilsner and wheat beer. Visitors can also snag one of their seasonal pints, which recently have included a summer wheat and a vanilla java stout; the latter is roasty, balanced, and not as big and sweet as the name implies.
When it comes time to order, you'll have a selection of pub grub appetizers, a few of which adhere closely to the barbecue theme, chile cheddar corn muffins, pork quesadillas and chipotle buffalo wings among them. The wings ($8.95) are fried and quite crispy. They carry little heat and verge on being sweet, which is nicely offset by chunks of blue cheese.
Fried pickles seem to be making a bit of a comeback (though it'd be fair to ask if they were ever popular enough to call it a comeback), and Blue Tractor offers a heaping basket, served with rich, tangy tomato ranch dressing, for around $8. They don't stay crisp long, but every component is a bit tart and a bit fatty, which is a hard combination to beat.
Largely the same for lunch and dinner, aside from pricing changes, the menu carries such typical brewpub fare as sandwiches and salads, but entrées include catfish, mac and cheese, and lots of barbecue. Choose from spare ribs or baby backs with fries, pulled pork with braised greens and grits, brisket with veggies, and beer-can chicken with baked beans and mashed potatoes.
Paralyzed by indecision? No problem. Blue Tractor offers combo plates ranging from two ($14.95) to all five ($26.95) of the meats. The largest is presented attractively, like a family-style dinner, certainly big enough for two people to share (and perhaps to take some home). Each platter comes with coleslaw, baked beans and grits, and you're offered a choice of several sauces ranging from a pungent vinegar-based sauce to a few more interesting, tomato-based options, including one based on their bock beer.
Among the meats, the spare ribs stand out for being extraordinarily moist; on the ribs and brisket, though, the pink rings around the meat are small, suggesting they didn't see much time in a smoker. The chicken arrives a bit dry but is generously coated in one of the sweeter sauces.
Blue Tractor's baked beans will take many diners back to childhood: Nicely spiced and a bit sweet, they taste just like the beans served at family picnics and dinners across southeast Michigan every summer. Butter, cheese and salt dominate the rich, flavorful grits. Interestingly, the grits actually have more cheese flavor than the mac and cheese, which is presented beautifully but didn't resonate with our dinner party.
If you're not interested in taking a carryout box home, consider the sandwiches and burgers, many of which feature elements of the entrées. The catfish po'boy ($8.95), for example, has a generous chunk of battered, deep-fried fish on a long roll. While the remoulade doesn't add much, the fish itself is quite moist and, despite the heavy crust, never feels heavy. The accompanying chips are made on premises, cut thick and cooked to dark, salty perfection.
Should gluttony be your sin of choice, try "The Rancher," a beef burger with ham, cheese and a fried egg. Equally delicious is the pepper-crusted buffalo burger, which uses leaner bison meat accompanied by roasted poblano-flavored goat cheese and fried onion. Vegetarians don't have a tremendous array of choices at Blue Tractor, but they do offer a fine veggie burger made with black-eyed peas, tofu, nuts and assorted vegetables. Each comes with fries rather than chips.
A particularly useful menu item for light lunches and late night munchies is Blue Tractor's slider. They offer traditional mini burgers as well as pulled pork and chicken sliders for only $2 apiece or $9.95 for five with some fries on the side.
After dinner, if you can stomach the notion of more food, the desserts continue the theme of hearty, rich fare whether in the form of a bourbon milkshake or a fried doughnut bread pudding with a butter-rum sauce.
Ideally situated on Washington Street near Ann Arbor's heavily trafficked Main Street, Blue Tractor is no doubt poised to keep sending its patrons out the door well-fed and licking those fingers clean.
Bar is open 11 a.m.-2 a.m. Monday-Saturday, noon-midnight Sundays. Kitchen is open 11 a.m.-11 p.m. Monday-Thursday, 11 a.m.-midnight Friday-Saturday, and noon-10 p.m. Sundays.