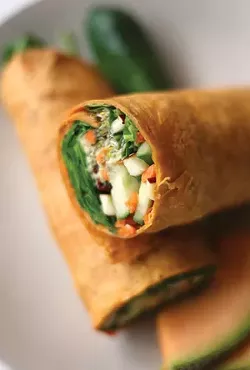 Though I've barely met the guy, I like to think of Greg Mudge as the embodiment of the American dream. Humble waiter in somebody else's restaurant for eight years. Sees a chance — grabs it — ends up as the hardworking but happy owner of his own place.
The result is Mudgie's, a pleasant 12-table lunch spot open since February on the Corktown site where Mudge used to know the security of a regular paycheck from Eph McNally's.
Mudge has tried hard to distinguish the new place from McNally's, which decamped to downtown. One way is the exceptionally friendly waitstaff. There was a certain attitude at McNally's; I remember a manager who lectured and sneered as he refused a simple request, and this was 10 years ago. Mudge says his food is fresher too; he cooks his own turkey, chicken and roast beef, using a top cut of beef.
The house-made quality was evident in the thick, juicy chunks of chicken in the "Campbell," a warm sandwich with melted Asiago and marinara on a sub bun. The marinara was clearly non-factory-made as well, with a fresh, sweet and spicy flavor, and it gave a warm feeling to know that this level of care had gone into an $8 sandwich.
Mudge puts thought into his ingredients, using mostly local products. Corned beef comes from Sy Ginsburg just a couple of miles away (watch Sy's fat-trimming, pickling, cooking process on YouTube, and see Sy in a shower cap). It's a leaner, drier corned beef, with no MSG.
The 24 sandwich selections include every good thing you can think of: Havarti, cheddar, sprouts, walnuts, pine nuts, diced apples, chick peas, avocado, artichoke hearts, roasted red peppers, coleslaw, bacon, red onion, basil, cilantro. Garlic mayo, vegetable cream cheese, strawberry cream cheese and Thousand Island dressing are produced in-house. Redskin potato salad is made with apples and whole-grain mustard. Spinach spread uses garlic, artichokes, pine nuts and Parmesan.
For a true evaluation, these sides would need to be ordered as sides, because they can get lost in the huge mound of fillings that stuff a sandwich too full to close. (Be prepared to knife-and-fork.) "That's Jared," for example, puts potato salad on top of corned beef and Swiss. The Ivey features spinach spread but has seven other ingredients competing for attention.
A purer way would be to design your own, which is encouraged. Start with a meat base — besides those mentioned above, you can use sirloin meatloaf, chicken salad, tuna salad, Nueske's applewood-smoked bacon, pastrami, ham or salami — and add. Mudge has had customers write down their custom sandwiches, done a drawing among their ideas and offered the winner as a special, with credit to the creator. A nice kind of "everyone knows your name" routine.
Where Mudgie's sandwiches fall down is on the outside — the bread. Sandwich bread shouldn't be just two bland slabs to hold the exciting innards together; it should have a presence of its own. But Mudge uses smooth-textured sourdough, pumpernickel and multigrain from Superior Bread in Livonia, and they're not interesting. With several more assertive bakeries close by, why not use them?
I found Mudgie's salads, which are of the loaded variety, flawless. This is partly because of the excellent balsamic vinaigrette, just the right proportions and served on the side. Unlike some meaty salads, his come with plenty of greens, so they really are salads. Croutons are house-made.
For dessert, the house specialty is a brownie made in a waffle iron, served warm. Though this sounds wonderful, the waffle format produces a thin brownie with lots of crustiness outside and less softness inside, and most people prefer their proportions the other way around. (When you're making brownies from scratch, do you choose the "cakelike" recipe or the "fudgy" option? My point.)
You can also get an ice cream float with rich premium vanilla from Calder's Dairy in Lincoln Park.
The dessert special right now is apple bread pudding waffle with horchata ice cream, topped with Sanders butterscotch caramel sauce, whipped cream and walnuts. (You had me at the horchata ice cream.)
Mudgie's offers Coca Cola in a glass bottle for $2.50, made with cane sugar instead of corn syrup and imported from Mexico. Frankly, I couldn't tell the difference — and it's not the shapely classic Coke bottle of yesteryear anyway. Go with a daily tea special instead, such as white tea with melon.
In the fall, Mudge is considering evening hours or Sunday brunch: "I make a mean sausage gravy." That would be a boon to those who don't work in Corktown — the place is open only 11 a.m.-4 p.m. Monday through Saturday. Those who do are lucky that Greg Mudge seized the day.
Jane Slaughter dines for Metro Times. Send comments to [email protected].