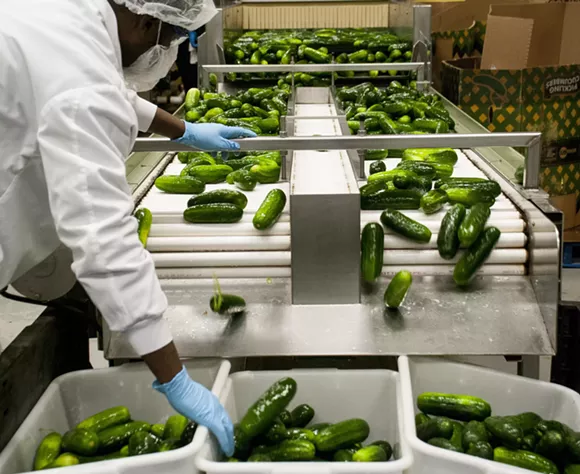 In Detroit,
McClure's Pickles
needs no introduction. Brothers Joe and Bob McClure launched the company in 2006, quickly making a name in the Detroit and New York City farmers' market circuits before growing into an international brand over the last eleven years.
The media has told the story of the brothers' hard work, dedication, and success, but we wondered: What does it look inside the pickle powerhouse's plant?
Joe McClure was kind enough to offer us a peek inside their repurposed American Axle factory in Detroit. It rolls five days a week, and around 30 employees produce up to 2,166 pickle jars in a shift, or 9,000 jars of bloody Mary mix. We stopped by earlier this week to photograph the cucumber-to-pickle metamorphosis and found the McClure's team packing pickles headed for Australia.
Find a parade of pictures portraying practices and processes at the productive pickle plant right over
here
.
(In other words, follow
this link
to see how McClure's make over 2,000 jars of pickles in a day.)