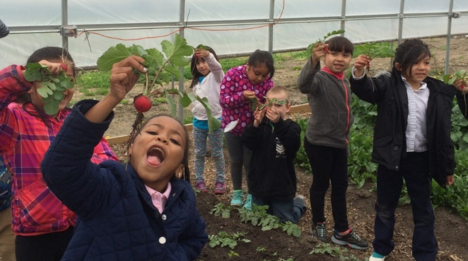 Last year,
we wrote
about Detroit Public Schools' Community District's stand out meal program, which is in part made possible by the approximately 85 gardens that students and staff maintain.
They give students the chance to learn hands on about why it's important to eat healthy, and some kids are even
paid for their efforts
. The program is a bright spot in a district that hasn't seen a ton of them in recent years.
As we previously wrote, the gardens tie into the district's STEM curriculum.
"Most of the district's schools hold a garden in which fresh veggies like zucchini and tomatoes are grown, and kids learn about the science of agriculture as they take part in planting and growing the food. The 32-square-foot beds are made by students with physical and cognitive disabilities at the Drew Transition Center. Altogether, there a 76 gardens and two hoop houses on DPS campuses, larger farms at Drew and Mackenzie Elementary-Middle School, and the vegetables are washed and processed in DPS."
Well, good news, Detroit. Big Green, a company run by Elon Musk's brother, Kimbal Musk, is here to install up to 100 gardens at "Detroit" schools.
Crain's
reports — under a headline reading "National nonprofit aims to put 100 gardens in Detroit schools" — that Big Green is raising $5 million to fund and install gardens.
Crain's
, "We expect at some point to work with Detroit Public Schools Community District, as well."
"The idea is to help kids increase their preference for nutritious foods, develop healthier responses to stress and improve their academic performance," the
Crain's
author continues.
But Musk's next quote is perhaps the most cringeworthy.
"We have stopped educating our kids about real food for a couple of decades now, and the results have been disastrous, rampant diabetes ... and in some neighborhoods, over 40 percent of kindergarteners go into kindergarten obese," he said. "It's not something they did to themselves. It's what we did to them, and we now need to fix it."
Except we are educating Detroit kids about food. So Musk doesn't acknowledge or appear to know this is a thing Detroiters who live here and are not zillionaires already did in the public school system.
While gardens are good, this is a textbook case of tone deaf saviorism, the kind we've seen a lot of in Detroit,
especially when it comes to urban agriculture
.
Beyond just failing to recognize the work of locals, the charitable model doesn't get to the root cause of poverty. As community leaders have repeatedly said, it's Detroiters who need to take the lead, build their own sustainable local economy, and make the structural changes that will make a meaningful, longterm difference. The Detroit Black Community Food Security Network's
recently-announced Detroit Food Commons is a great example of that
. DBCFSN's Malik Yakini also brought up his concerns with Musk's project on
social media
, and the saviorism concept in a recent
Detroit Journalism Collective story
.
"If you're not aware of context in which you're operating, if you're not aware of the social and political dynamics, if you're not aware of the last 50 years of struggle for black empowerment in the city of Detroit, and you just fall down out of wherever you came from and you plop in here and you say, 'Well, I'm here, and I'm going to do farming,' then you're likely going to move in a way which is not going to be supportive of community goals and aspirations, and perhaps could even undermine those," Yakini told DJC.
Rich saviors from places like Silicon Valley or Ann Arbor typically can't understand or address the structural problems and inequalities in a place like Detroit. And, ultimately, their efforts creates dependence.