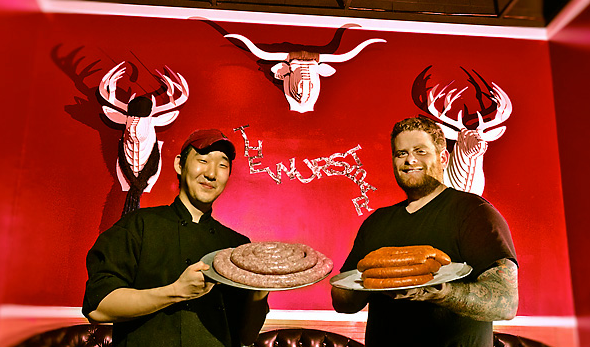 A Bunch of Brats — An inventive event is scheduled for next week. It's called the inaugural Wurst Challenge, and it will feature sausage-loving philanthropists engaging in a little good old competitive eating for a good cause. The contestants, including Ypsilanti Mayor Paul Schreiber, will eat try to consume 20-foot bratwursts to benefit FLY Children's Art Center. The bratwursts, each approximately two stories tall, should be tasty, as they come from Ypsilanti's popular Wurst Bar. Prizes await the challenger who raises the most money, the one who consumes the most bratwurst, and the "audience favorite." But one thing strikes us as unfair: The contest will provide tofu apple bratwursts for non-carnivores. We know it's really just fun for a good cause, but is it really the same, stomach to stomach, when you compare the meatless sausage to the real thing? The Wurst Bar's chef, Dan Klenotic, says he'll be assembling the sausages by weight, so nobody should have to stomach a double-standard. Interested? Want to help raise funds for a good cause? You can sign up by emailing [email protected] Doors open at 6:30 p.m., with the brats served at 7:30 p.m., on March 20, at the Wurst Bar, 705 W. Cross St., Ypsilanti; 734-485-6720; wurstbarypsi.com.
Of Seafood and Sanity — It's that time of year when Eddie Merlot's offers its annual "Lobster Madness" event, during which the steakhouse invites diners to enjoy specialty seafood items in March and April. The specials include lobster with pappardelle ($26), house-made lobster bisque ($8), and lobster macaroni and cheese ($12). Then there's the "twin lobster" special every Friday, when guests can enjoy two 1-1/4-pound lobsters for $39.95. Deals run through April 18, at 37000 Woodward Ave., Bloomfield Hills; 248-712-4095; eddiemerlots.com.
The Way It Crumbles — We get some unusual things sent to us here at the office. Most recently, it was a refrigerated package of Beef-Free Crumbles. They come with the double-take-inducing slogan "Real Meat, Made from 100% Plant Protein." We let a co-worker take it on home and she made tacos out of it and declared it OK. So you heard it here first, straight from the Metro Times receptionist: Beef-Free Crumbles make good tacos. The protein food is soy- and gluten-free, comes in Beefy and Feisty flavors, available at Whole Foods.
Raising Green — Before it closes, Woodruff's will host a fundraiser to benefit the Greening of Detroit, thanks to Pulp Culture, a four-piece band from Waterford that has a passion for Detroit, sustainability and music. The band will be joined by the Excommunicators, Amanita and Zombie Jesus Chocolate Sunshine Band playing sets at Woodruff's, and the organizers will be donating 20 percent of door tickets and $1 of each piece of merchandise sold to the well-established nonprofit. There will also be free T-shirts for every donation of $20 or more. It takes place on March 14, at 36 E. Cross St., Ypsilanti; woodruffsbar.com.